The rapid growth of Bitcoin (and cryptocurrencies in general) has prompted many retail traders to enter the market, searching for high returns. Using a crypto robot is one way of generating these returns in a completely automated fashion – meaning that you can simply kick back and let the profits roll in.
So, in this guide, we'll present a BitIQ Review – one of the top crypto robots on the market. We'll cover all of BitIQ's features and show you how to sign up and get started with BitIQ today! 
What is BitIQ?

First things first – what is BitIQ? Put simply, BitIQ is an automated trading robot that can scan the cryptocurrency market on your behalf and identify opportunities that could be profitable. Once an opportunity is identified, BitIQ can then automatically place a live trade for you – without any manual input being required.
The BitIQ crypto robot has been developed by a team of experienced traders who have used their combined experience to create an algorithm that allows traders to be profitable in the cryptocurrency market. The specifics of the algorithm's strategy aren't mentioned on BitIQ's website; however, this tends to be quite common for many robots as they opt to keep their unique strategies under wraps to prevent competitors from copying it.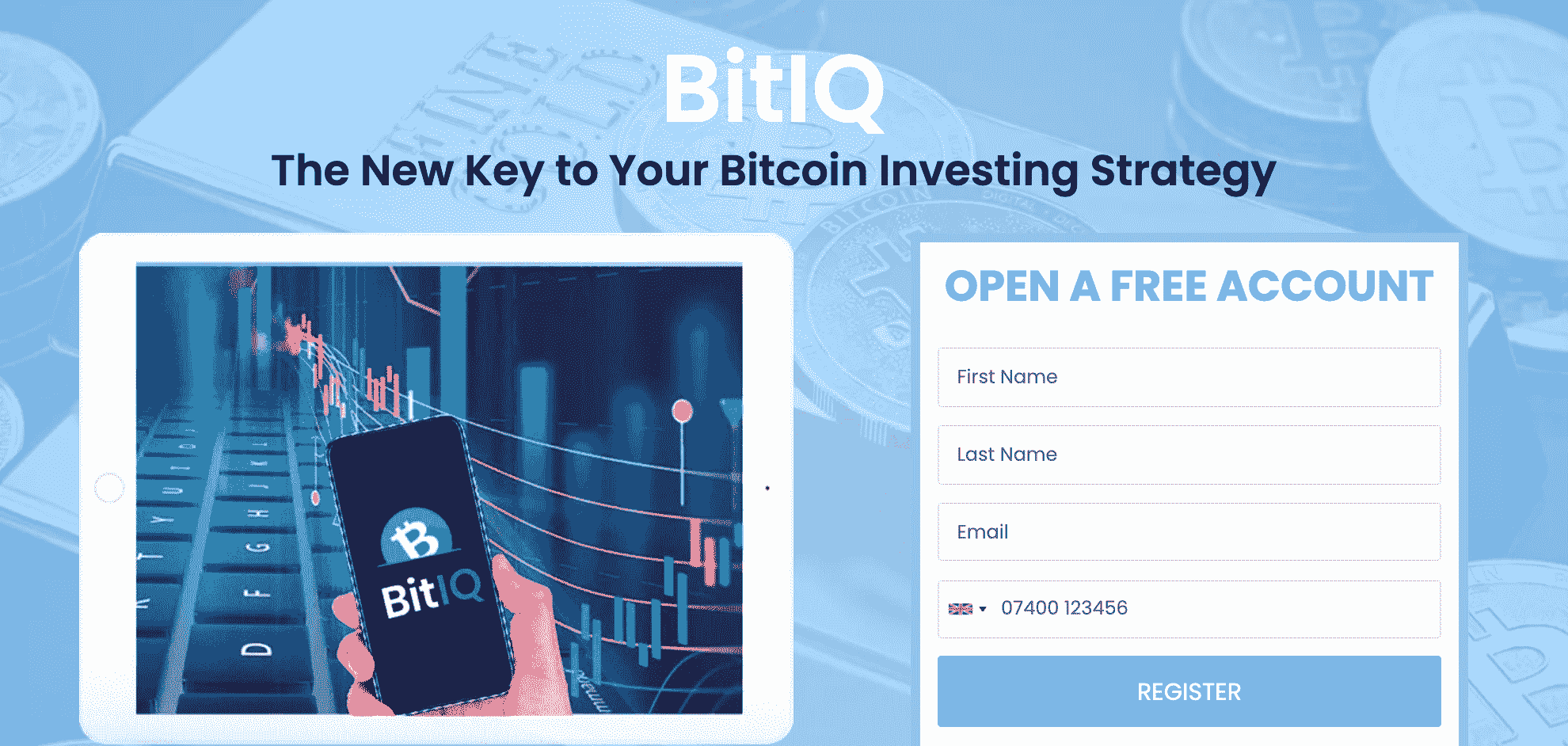 Your capital is at risk.
As noted on their website, BitIQ works entirely through a dedicated app that the team has created. This app allows users to monitor the markets and set up the automated trading robot to place trades on their behalf. The fact that BitIQ works solely on an app is an excellent benefit for many traders, as it means that they can monitor the robot's trades on the go and alter settings when required.
Finally, our BitIQ trading review found it is entirely free to download and use – ideal for beginner traders. The fact that BitIQ is completely free to use is great news for users as it ensures that a more significant percentage of the potential profits are yours to keep! Once you have registered an account and downloaded the app, you can even take time to familiarise yourself with the platform before beginning live trading. 
BitIQ Pros & Cons
These days there are so many crypto robots and forex robots available on the market, all of which aim to automate your trading and create profits without you having to lift a finger. With so many robots to choose from, it may seem tricky to decide which one is right for you and your investment situation.
To help streamline this process, this section presents the crucial pros and cons that you need to be aware of when it comes to BitIQ – ensuring you have all the information you need to make an efficient decision.
BitIQ Pros
Automatically trades Bitcoin on your behalf
No trading experience necessary to use
Completely free to use – no hidden fees
Can test the app out before beginning live trading
Creating an account is quick and easy
Developed by an expert team of software developers and traders
No minimum deposit
It only requires a few minutes each day to manage
BitIQ Cons
No verifiable results on the website
Only trades Bitcoin
Your capital is at risk.
BitIQ Services
As noted in an earlier section, BitIQ is a crypto robot that scans the market on your behalf and places trades when it sees a potentially profitable trading opportunity. The great thing about BitIQ is that it offers an 'all in one' service, meaning that you do not need a crypto broker to begin using the robot. BitIQ essentially acts as the crypto broker and the robot – which ensures trades are placed as quickly as possible, which is essential in the fast-moving crypto market.
Our BitIQ review found this robot focuses solely on Bitcoin, as they feel that Bitcoin offers the best and most consistent trading opportunities. Bitcoin is the most liquid cryptocurrency on the market and consistently hits more than $1 billion in daily trading volume. Due to this fact, Bitcoin often presents many great and lucrative trading opportunities – which is why BitIQ has decided to focus on this crypto.

Your capital is at risk.
As noted, BitIQ's services are all provided through their dedicated app. This app can be downloaded to your smartphone, enabling you to monitor any trades that the robot places whilst you are out and about. Furthermore, BitIQ offers a sort-of 'demo account' feature, as once you download the app, you do not have to begin live trading right away. Instead, you can familiarise yourself with the look and feel of the platform and place a deposit when you see fit.
Also, BitIQ boasts some pretty impressive execution speeds. Many reviews online note that BitIQ can open and close positions with extreme precision, which is vital in the fast-moving crypto market. This fast execution speed means that you get the benefits of trading with one of the best cryptocurrency trading platforms, all whilst your trading is automated.
How Does BitIQ Work?
Now that you know what BitIQ is, you're probably wondering how it actually works. Like other crypto robots and forex robots, BitIQ works by using an advanced algorithm to scan the markets and identify trading opportunities automatically. Once a trading opportunity has been identified, the robot can place a trade on your behalf, using the pre-defined position sizes that you specify.
This whole process is 100% automated, meaning that you do not have to do any research or analysis when trading. The benefits of this are huge – with one of the main ones being more time to spend doing other things, rather than sitting at the charts all day! This is essentially how BitIQ works and is why this robot is so popular with crypto traders.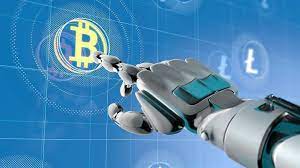 As noted earlier, our BitIQ found the specific strategies that BitIQ employs are kept under wraps. However, there are some pieces of information dotted about their website that provide some insight. Notably, the website mentioned that opportunities are identified using a combination of artificial intelligence, news trading, arbitrage trading, and price trend analysis.
Using just one of these strategies would be a good approach – but the fact that BitIQ employs all four means that users get a comprehensive and accurate robot that can identify profitable opportunities and ignore unprofitable ones. This means that the crypto signals that the robot generates have a higher chance of developing a return over the long term.
Finally, to begin using BitIQ, you will need to make a deposit so that the robot has money to trade with. The BitIQ website does not specify a minimum deposit amount – although many reviews state that the minimum deposit is only $250, which is a reasonable amount to trade with. Notably, BitIQ employs advanced SSL encryption methods to keep your personal data and money safe when trading.
BitIQ Success Rate
When researching a crypto robot, it's a good idea to look for any mention of the robot's success rate to get an idea of its profitability. Our BitIQ trading review found the robot's website does not actually state a specific win rate for the robot, which some users may find surprising. However, in reality, this is perhaps a good thing.
Many crypto robot providers will state a colossal win rate (80% plus), with most of these statements being unverified. This can lead to users signing up and then being disappointed when the robot doesn't meet these expectations. BitIQ does not specify a win rate, it hints that their robot is more credible and reliable than others, as huge win-rates of over 80% are unrealistic over the long term. The best way to find out the specific win rate is to give the robot a go for yourself!
BitIQ Fees
The great thing about using the BitIQ robot is that there are no fees whatsoever! This might be a surprising statement considering how advanced the BitIQ algorithm is – but the fact is that BitIQ is free to use, and there are no hidden fees at all. The only thing you need to do is deposit a minimum of $250 (according to many reviews) so that the robot has some capital to trade with.
Notably, BitIQ's website states that no broker account is required to use the robot, as BitIQ will facilitate the trades on your behalf. Although the specific details on how this works are not evident, the fact is that this methodology would mean that you avoid transaction fees and other fees that you would accrue when using a traditional crypto trading platform. Over the long term, this can save you a lot of money – especially if you are active in the market.
Is BitIQ a Scam?
Understandably, you'll probably be keen to know whether BitIQ is a scam or not. The ability to research the market and place trades on your behalf may seem too good to be true – but in this case, it isn't! BitIQ has a credible website with lots of information on how the robot works and the team behind it. In fact, the development team comes from various backgrounds, including traders and software developers.
Notably, there are no customer testimonials or success rate claims on the website, which may seem strange at first. However, a lot of the time, these testimonials and claims are not verified, which means that the creators can write anything and hope people believe it. In BitIQ's case, no crazy claims are made – which further showcases the reliability of this robot.
Finally, there are many reviews from various sources that focus on BitIQ, all of which seem resoundingly positive. BitIQ also boasts SSL encryption, which is designed to protect you from scams and safeguard your data. All in all, these factors combine to ensure that BitIQ is a credible crypto robot that can accomplish the claims it makes on its website.
BitIQ App
One of the best features of BitIQ is its dedicated app offered to users. This is one of the best trading apps for automated trading, as BitIQ's developers state that they wanted to 'bridge the gap between crypto and the general public'. Due to this, the BitIQ app has been designed to be incredibly user-friendly and requires no previous trading experience to understand.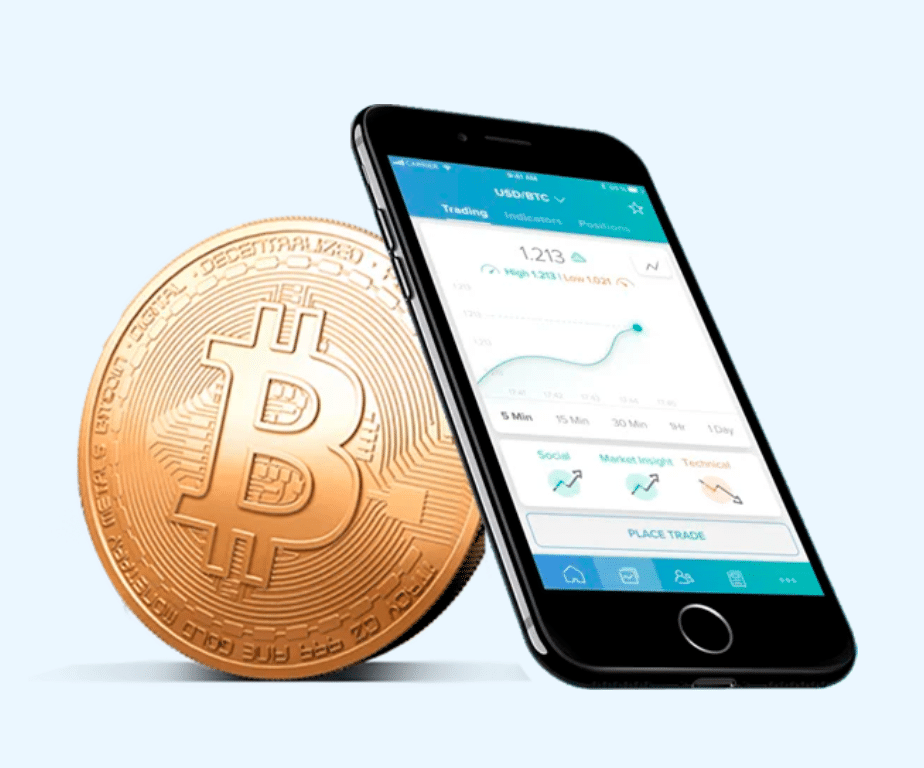 The app can be downloaded for free, and users can use it initially without having to deposit. This allows time to familiarise yourself with the features and layout. Once you have made a deposit, the app can be used to monitor trades and alter settings related to risk management and trade criteria.  The great thing is that BitIQ even offers a customer support service for users who are having trouble accessing the app or who have experienced issues with the app.
BitIQ Payments & Withdrawals
As noted earlier, our BitIQ review found it doesn't require a broker account to sign up, as they will facilitate all of your trades for you. Although the specifics of this aren't noted, most of the time, this means that the robot will have a partner broker that they use to place trades. Overall, this streamlines the whole process for traders as it means they do not have to monitor multiple accounts throughout the day.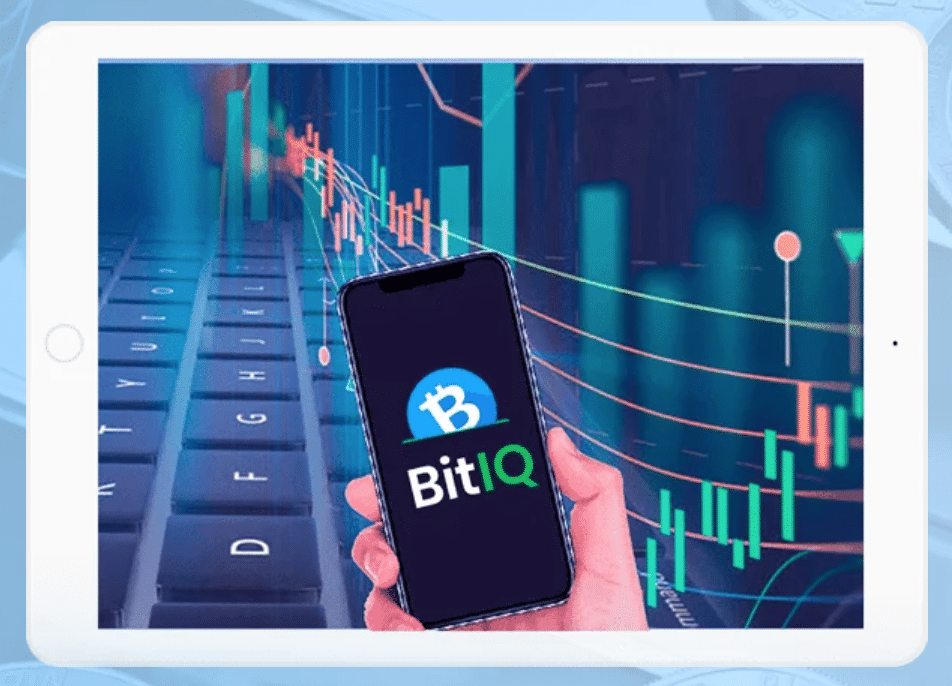 In terms of payment methods, many reviews note that credit/debit cards and bank transfers are both accepted. One of the great things about BitIQ is that the timeframe for withdrawals is stated as 24 hours. All you have to do is fill out a withdrawal request form, and BitIQ will begin the withdrawal process. This is in stark contrast to some other crypto robots that make you jump through hoops just to access your profits.
BitIQ Minimum Deposit
Although the minimum deposit is not noted on their website, many reviews of BitIQ state that the minimum deposit is $250. This amount is reasonable, as it provides enough trading capital to make some noticeable gains whilst also remaining accessible for beginner traders.
BitIQ Customer Support
When partnering with a crypto robot, you'll want to ensure that there is a convenient customer support service available in case you have any questions or problems. Fortunately, our BitIQ trading review found this robot has a dedicated customer support team on hand to answer any queries you may have. Users can contact this team by using the handy contact form on BitIQ's website.
Once the team has received your message, you will receive an email back to your provided email address. On top of this support team, BitIQ also has an FAQs section on its page that offers answers to some of the commonly asked questions. These FAQs ensure that the critical points are covered so that you can begin trading immediately without having to search for further information.
How to Use BitIQ
Now that you have a comprehensive understanding of what BitIQ is and how it works, let's take a look at the signup process. By following the four steps below, you'll be able to create an account with BitIQ and begin trading – all in under fifteen minutes!
Step 1: Register for BitIQ
Navigate to BitIQ's website, and you will see a signup box on the homepage. Simply enter your first and last name, mobile number, and email address to sign up for an account. Click 'Register' when you are happy to proceed.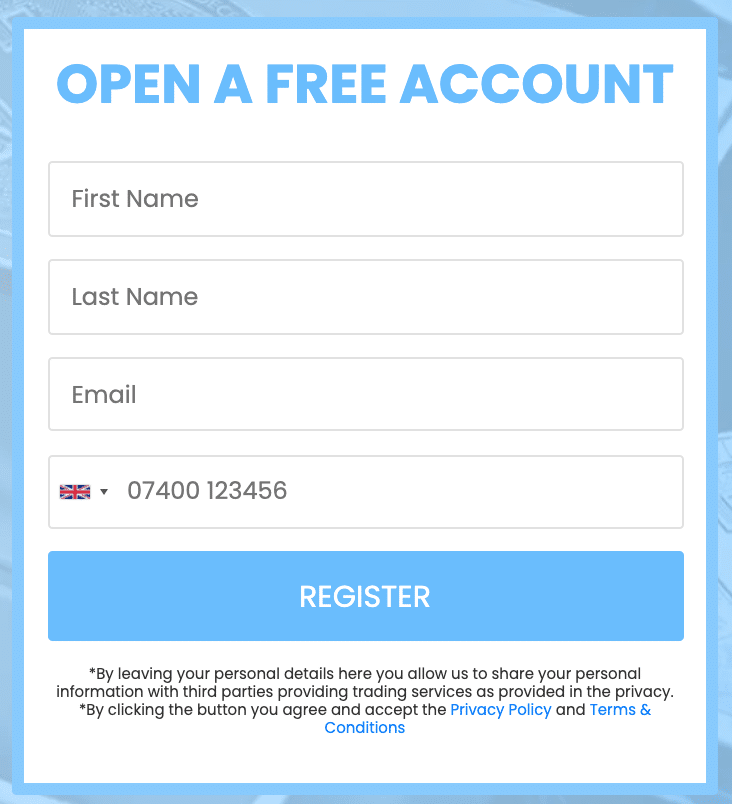 Your capital is at risk.
Step 2: Deposit Funds
According to reviews from reputable sources, BitIQ requires a minimum deposit to begin trading. This ensures that the robot has the capital to utilise and that advanced strategies can be employed optimally.
In terms of payment methods, these are not actually specified, although it's safe to say that common ones such as credit/debit cards and bank transfers will likely be accepted. As BitIQ is fee-free, you can be sure that hidden charges or commissions will not hamper any deposit you make.
Step 3: Set Up the Robot
Once you have made a deposit, you can set up the robot. BitIQ has multiple settings that you can tweak to ensure the robot trades how you would like it to. You must specify how much you'd want to risk so that your account doesn't diminish rapidly if there is a string of losses.
Step 4: Begin Live Trading
Once you are happy with everything, you can begin live trading. BitIQ will automatically research the market in the background while you go about your day, scanning the market for lucrative opportunities. Once it finds a trade opportunity, BitIQ will automatically place a trade for you – meaning you can create profits whilst doing other things!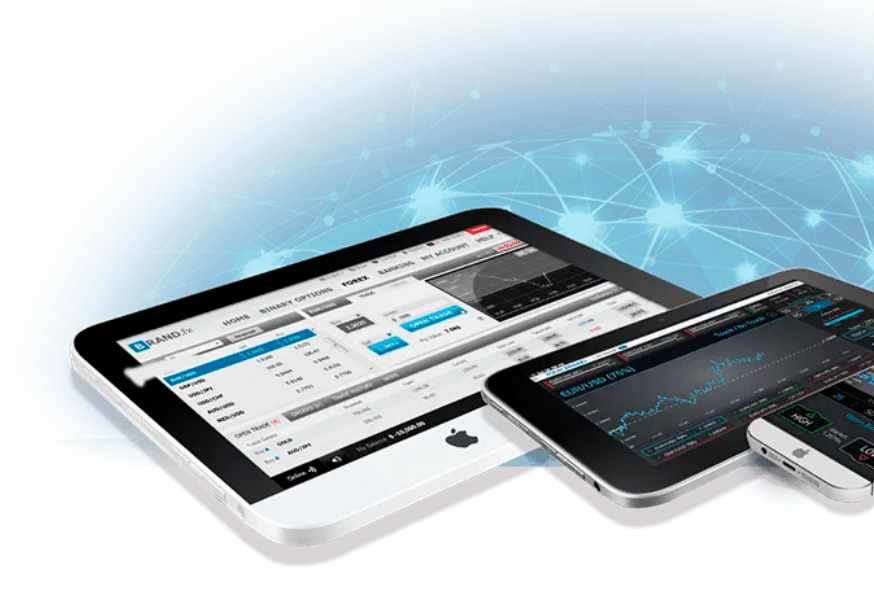 The Verdict
In summary, crypto robots are a fantastic way to trade the cryptocurrency market, especially if you are a beginner or short on time. Robots such as BitIQ incorporate advanced algorithms that can detect trade opportunities faster than humans can – enabling you to get in trades sooner and generate greater returns over the long term.
So, if you'd like to get set up with a crypto robot today, we'd highly recommend checking out BitIQ. BitIQ is entirely free to download and use, requiring an initial $250 deposit to begin trading. Simply click on the link below to get started trading with BitIQ right away!
BitIQ – Free Crypto Trading Robot

Your capital is at risk.
FAQs
How much money do I need to trade with BitIQ?
Do I need trading experience to use BitIQ?
How long does it take to set up BitIQ?
What sort of returns can I make with BitIQ?