Australia gained 14.2K jobs in April, around double the early expectations. This is the fourth consecutive month of job growth in Australia.
Together with positive trade  data from China, AUD/USD was able to resume its rise after grinding lower.
Here is a fresh 30 minute chart of AUDUSD, which shows the burst higher: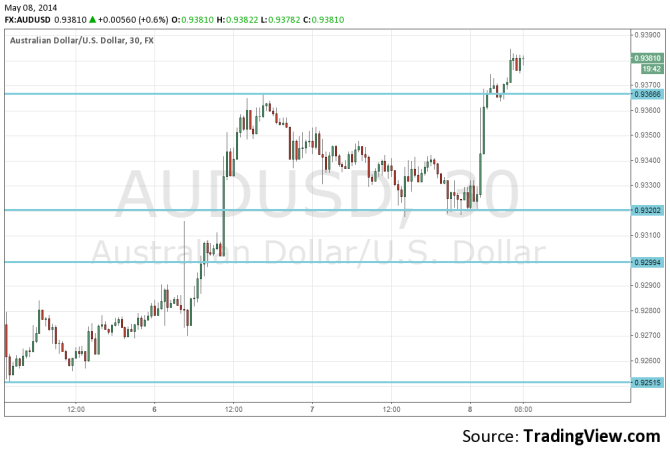 The data
The good news is that all these jobs are full time ones. In addition, the unemployment rate  remained at 5.8%, better than a rise to 5.9% expected. The participation rate  stands at 64.7%. In comparison, the recent Non-Farm Payrolls report showed that the US participation rate stands at only 62.8%.
China was  expected to publish a trade balance  surplus of around $14 billion, but surprised with $18.45 billion. More importantly, both exports and imports of the economic giant were on the rise, contrary to predictions. China is Australia's No. 1 trade partner and  these figures are certainly healthy.
Aussie rising
AUD/USD enjoying the great sell-off of the US dollar to make a nice move higher, but was capped at 0.9366. From there, the pair began grinding lower. After finding support at 0.9320,  the data certainly sent it higher.
Aussie/dollar  peaked at 0.9384 but hasn't  retraced these gains too much. The round number of 0.94 serves as immediate weak resistance towards the bigger 0.9460 level.
For more, see the Aussie dollar prediction.