AUD/USD dropped sharply after dovish comments from Glenn Stevens and is now in effort to recover. Will it make it back to the previous range before the week ends? Here's a quick update on technicals, fundamentals and community trends.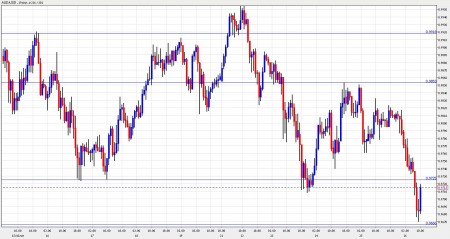 * Post updated 16:00 GMT
AUD to USD sharp drop.
AUD/USD Technicals
Asian session:  AUD USD dropped sharply and bounced off the critical 0.9660 level. It later lost that as well.
Current Range: 0.9540 to 0.9660.
Further levels in both directions: Below   0.9540, 0.9460, 0.9366. Above 0.9660, 0.9725,  0.9863,  0.9915,  1.0000, 1.0080, 1.0180, 1.0220, 1.03.
Parity is a big technical hurdle, but unlikely to be tackled in current conditions.
Strong support at 0.9660 lost – bearish signal.
AUD/USD Fundamentals
22:30 (Thursday) Glenn Stevens' dovish comment hurt the Aussie.
AUD/USD Sentiment
North Korean attack on South Korea surprises the world and triggers risk aversive trading. The Aussie is sensitive to this news, and now suffers from the fresh Korean tensions.
Contagion spreading: Fears that Spain and Italy will also need bailout packages impacts the whole world, not only the Euro. Portugal might receive aid soon.
Light Thanksgiving trading means that the markets will probably hardly move until a major news, from Europe for example, can rock the markets on thin trading volume.
Currensee Community: 92% are short, 8% are long. 358 open positions in real accounts trading this pair at the moment. The community continues seeing more falls in AUD/USD.
Want to see what other traders are doing in real accounts? Check out Currensee. It's free..