AUD/USD  continues to shine, posting gains of about a cent last week. The pair closed just below the 0.94 line.  This week's highlight is the RBA Monetary Policy Meeting Minutes. Here is an outlook on the major market-movers and an updated technical analysis for AUD/USD.
The Aussie rise was fuelled by excellent employment data. In the US, Unemployment Claims improved and inflation and consumer sentiment beat their estimates.
[do action="autoupdate" tag="AUDUSDUpdate"/]
AUD/USD graph with support and resistance lines on it. Click to enlarge: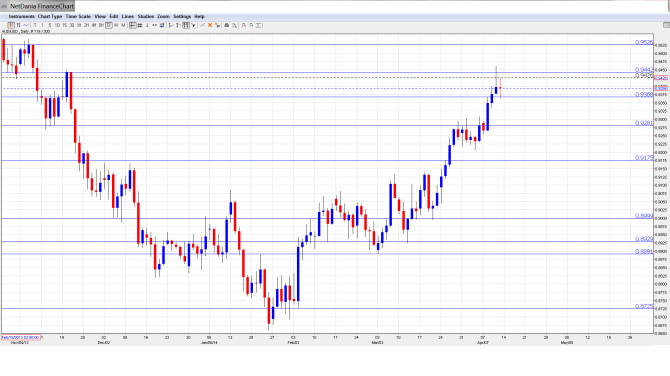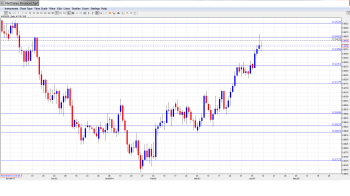 RBA Monetary Policy Meeting Minutes: Tuesday, 1:30. This is the major event of the week. The report provides details of the RBA's most recent policy meeting, and any references to the Australian dollar could impact on the movement of AUD/USD.
MI Leading Index: Wednesday, 00:30. The index is based on 9 economic indicators. It is considered a minor event since most of the data has already been released. Three of the past four readings have been in negative territory, and the markets will be hoping for a gain in the March release.
Chinese GDP: Wednesday, 2:00. Key Chinese indicators such as GDP can have a significant impact on AUD/USD, since China is Australia's number one trading partner. Last month, GDP posted a gain of 7.6%, edging above the estimate of 7.6%. The forecast for the March release stands at 7.4%.
Chinese Industrial Production: Wednesday, 2:00. This key manufacturing indicator remains at high levels, but recent readings have been dropping, raising concern that the world's number two economy is slowing down. The indicator slipped to 8.6% last month, a five-year low. It was well below the estimate of 9.5%. The markets are expecting an improvement in the upcoming release, with an estimate of 9.1%.
NAB Quarterly Business Confidence: Thursday, 1:30. This indicator has been moving upwards, and the Q4 reading of 8 points hit a three-year high. Will the upward trend continue in Q1?
New Motor Vehicle Sales: Thursday, 1:30. New Motor Vehicle Sales is an important gauge of consumer spending, as motor vehicles are big-ticket items. The indicator has run into some turbulence, with a gain of just 0.1% in the previous release and a decline a month earlier. Consumer spending is an important component of economic growth, so a strong reading could give a boost to the Australian dollar.
*All times are GMT.
AUD/USD Technical Analysis
AUD/USD  opened the week at 0.9288 and  quickly dropped to a low of 0.9254. The pair then  reversed directions,  climbing all the way to 0.9461, breaking support at 0.9442 (discussed last week). AUD/USD closed at 0.9394.
Technical lines from top to bottom:
With the Aussie posting strong gains, we begin at higher ground:
We begin with resistance at the round number of 0.99, a key resistance level.
Next is 0.9794, which was last tested in June 2013.
There is resistance at the round number of 0.9700, which has held firm since October 2013.
0.9526 provided key resistance in November 2013 and has remained intact since that time.
0.9442 was breached last week but remains in a resistance role. The line marked the high point of  the  pair in November, which saw the Aussie  go on a sharp slide and drop below the  0.89  line.
0.9368 has switched to a support role following  strong gains by the Australian dollar. It was a key support line last October.
0.9283 is providing strong support. This line  saw a lot of action in the months of June and July, alternating between resistance and support roles. This  is followed by support at 0.9180.
The round number of 0.9000 is a key psychological level. It has remained intact since early March. AUD/USD has been showing impressive gains since then. 0.8893  is the next support line.
The final support level for now is 0.8728.  It  marks the low point of an Aussie  rally which began in early February and pushed above the 0.90 level.
I am  bearish on AUD/USD.
The RBA has  noted aloud on numerous occasions that it would like to see the Aussie at lower levels, and we could see these sentiments repeated in the RBA minutes. US numbers have been generally positive, and  the markets are expecting  another QE taper later in  April, which is a dollar-positive event.