The Australian Dollar traded higher today against the US Dollar mostly as a result of corrective action.  AUD/USD was trading at 0.9962 (+0.05%) at the time of this writing.
Here's a quick update on technicals, fundamentals and community trends.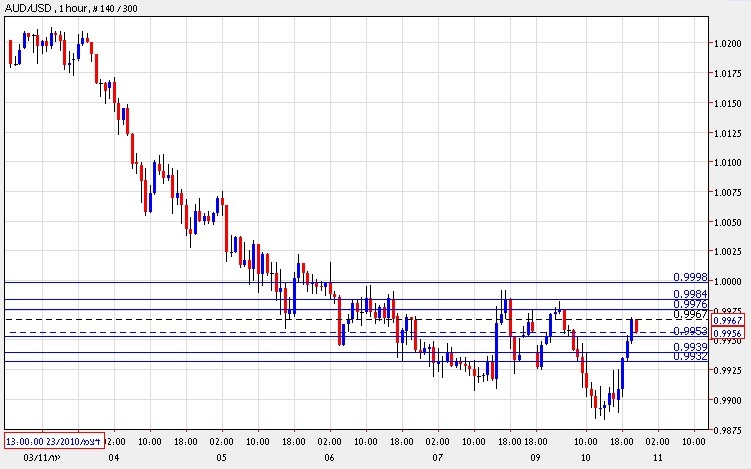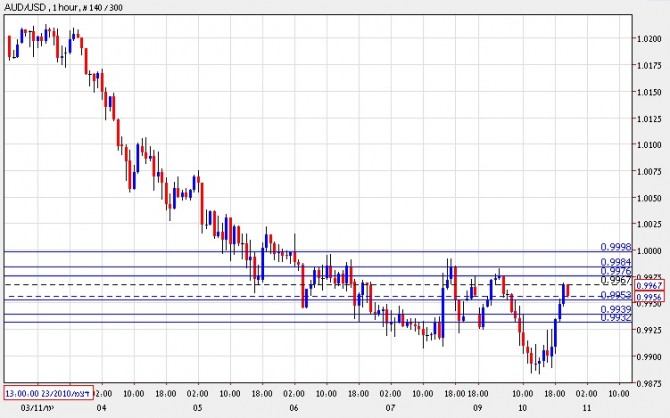 AUD/USD Technicals
Previous sessions: AUD/USD traded slightly higher Monday reaching 0.9962 at the time of this writing due mostly to a technical correction.
Current range: 0.9883 – 0.9983
Further levels: Below: 0.9931, 0.9939, 0.9953 Above: 0.9975, 0.9983, 0.9997
AUD / USD likely to find support at today's low of 0.9884, and resistance at Wednesday's high of 1.0076.
AUD/USD Fundamentals
00:30 AUD ANZ Job Advertisements m/m
00:30 AUD Trade Balance Exp. 2.03B
13:30 USD FOMC Member Plosser Speaks
15:00 USD IBD/TIPP Economic Optimism
15:00 USD Wholesale Inventories m/m
19:00 USD FOMC Member Kocherlakota Speaks
Tentative USD Treasury Currency Report
* All times are GMT.
For the major events due later in the week, see the  AUD/USD forecast.
AUD/USD Sentiment
U.S. and European markets down today with EURO markets down on debt contagion fears
Sentiment on the USD/AUD show a short bullish movement but the overall outlook is bearish.
EUR/USD on shaky ground due to possible Portugal bailout
Currensee Community: 92% are short, 8% are long. 390 open positions in real accounts trading this pair at the moment. The community is expecting corrective increases over the next few days for AUD/USD, although overall outlook is bearish, with lower levels expected.