GBP/USD lost the very round 1.50 but  is certainly giving a fight and battling over this level. What's next for cable?
The team at Bank of America Merrill Lynch examine the technical levels for pound/dollar.
Here is their view, courtesy of eFXnews:
With the USD bull trend intact, attention turns to the ongoing breakout in GBP/USD.
On short-term charts Bank of America Merrill Lynch notes that GBP/USD has just broken down from its 3d contracting range; resuming its larger bear trend in the process.
"Downside targets are seen to 1.4813 (Jul'13 lows). Pullbacks should not exceed 1.5102 (Mar-10 high)," BofA projects.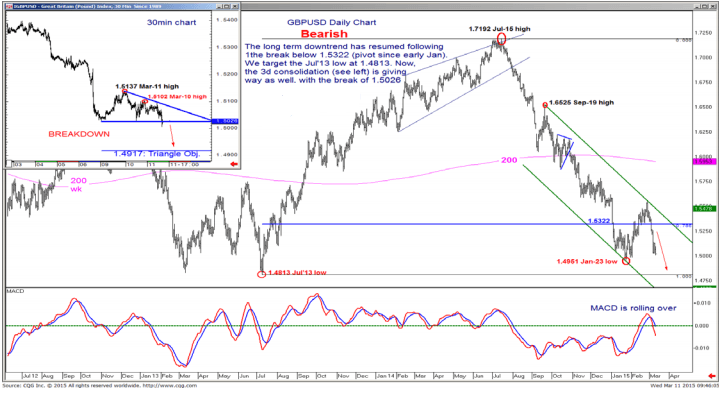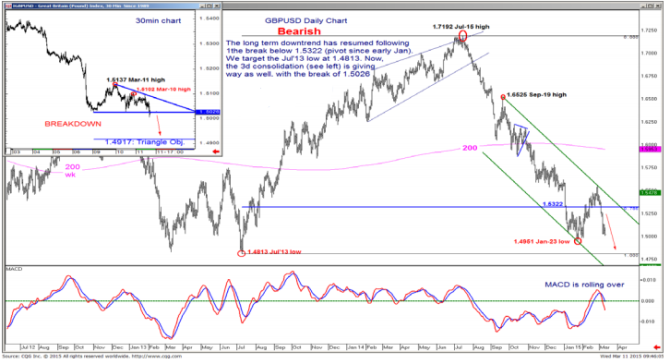 On long-term charts, Goldman Sachs thinks the market has potential to go even far below 1.48.  
"Last year's high (1.7192) failed at multi-decade resistance 1.6750-1.7178 where a number of historical peaks and troughs have converged since ~'96. It's now worth considering whether the market can eventually move back down to the broader range lows," GS notes.
"The past three major cycle troughs (in '92, '01 and '09) were all set between1.4168 and 1.3503. So while further confirmation is likely needed, it seems feasible that GBPUSD could eventually go far below 1.50/1.48," GS projects
For lots  more FX trades from major banks, sign up to eFXplus
By signing up to eFXplus via the link above, you are directly supporting  Forex Crunch.