China's imports and exports plunged much faster than anticipated for July.
July witnessed robust Australian business conditions.
The RBA chose not to raise rates during its August policy meeting.
Today's AUD/USD outlook is bearish. The dollar surged Tuesday as traders grappled with differing growth prospects between the world's top two economies. Notably, new data on Tuesday unveiled China's imports and exports plunging much faster than anticipated for July.
-Are you looking for the best CFD broker? Check our detailed guide-
Imports plummeted 12.4% from the previous year, and exports shrank by 14.5%, further indicating the nation's stumbling economic revival. Consequently, there were declines in the Australian and New Zealand dollars.
Meanwhile, July witnessed robust Australian business conditions, as sales, profits, and employment remained above average. Yet, a surge in labor expenses and prices hinted that inflationary pressures persisted. 
A survey from National Australia Bank Ltd unveiled on Tuesday displayed a slight dip in its business conditions index. However, its confidence measure, known for volatility, increased. 
In a worrisome signal for inflation, labor costs experienced a substantial 3.7% leap in quarterly terms. This likely resulted from mandated increases in minimum and award wages. Moreover, purchase expenses rose as electricity prices sharply surged, and quarterly retail price growth nearly doubled to 2.6%.
Consequently, this could spell trouble for the upcoming official consumer price reading, which had displayed a favorable decrease in second-quarter inflation. The survey findings underscore substantial upward influences on inflation, notwithstanding the progress observed in the Q2 Consumer Price Index report.
Notably, the Reserve Bank of Australia chose not to raise rates during its August policy meeting last week. The bank was partly relying on the anticipation of decreasing inflation.
AUD/USD key events today
Investors are not anticipating any major economic report from the US or Australia today. Therefore, investors will keep absorbing recent releases.
AUD/USD technical outlook: Price drops following rejection at 0.6600 and 30-SMA.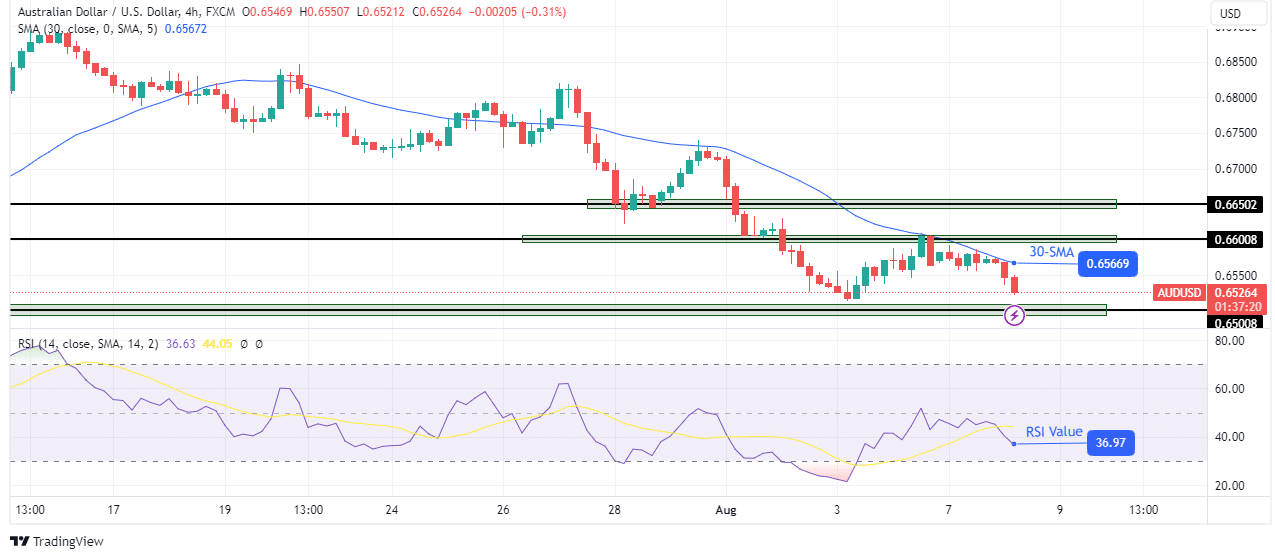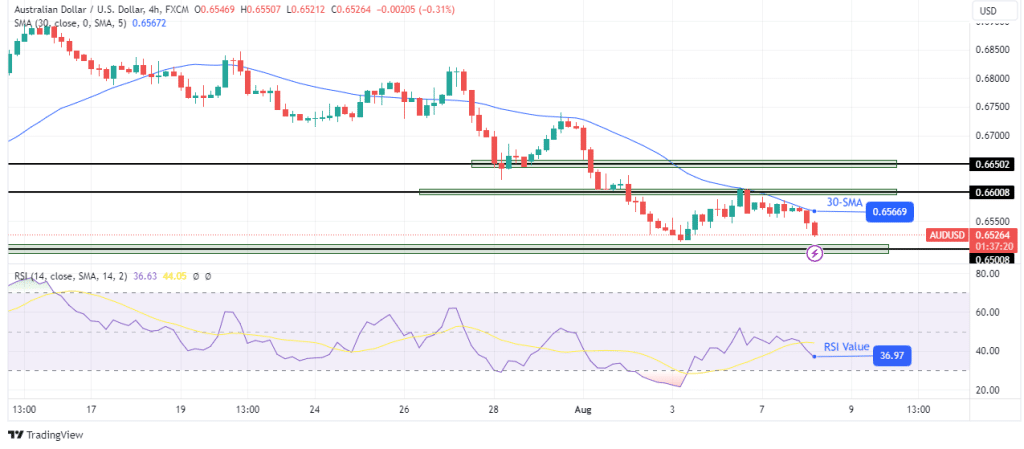 On the technical side, AUD/USD has bounced lower after respecting resistance at the 0.6600 level and the 30-SMA. The bias on the 4-hour chart is bearish as the price has consistently made lower highs and lows. Moreover, it has mostly respected the 30-SMA as resistance, bouncing lower every time it rises to the level. 
-If you are interested in guaranteed stop-loss forex brokers, check our detailed guide-
Finally, the RSI trades below 50, pointing to solid bearish momentum. Therefore, as bears approach the next hurdle at 0.6500, there is a big chance they will break below to make a new low.
Looking to trade forex now? Invest at eToro!
68% of retail investor accounts lose money when trading CFDs with this provider. You should consider whether you can afford to take the high risk of losing your money