This  is becoming a winning streak for the Leave campaign and a losing streak for  Remain. Polls are showing that undecided are breaking for Brexit.
However, the pound is not breaking that much. It did react negatively to the Oralndo attack, especially against the yen, as we had predicted. Nevertheless, it did manage to bounce on some problematic reporting.  Is it just consolidating ahead of the next slide?
Cable fell to support at 1.4120, but bounced from there and is trading above 1.42. It temporarily leaped above 1.43 on bad reporting: the highly anticipated ICM Guardian polls were reported as showing a 53% to 47% lead for Remain while the actual result was eventually the same numbers, but for Leave. This confusion resulted in a failed attempt to reach resistance at 1.4370.
The ICM poll was special in  3 ways:
The postponement of the publication created a bigger hype and a stronger market reaction.
The ICM poll shows it isn't only the  online polls that lean for Leave and also that the previous poll, held during a bank holiday, was not a one off.
The number of undecideds is falling: the top figures exclude the undecideds, but looking deeper into the numbers shows that both camps have more support, but Remain got 3 additional percentage points and Leave got 5%. It also shows there is less room for margin.
All in all, this poll should have a much more devastating effect on the pound.
But it's not only ICM, also other polls  held by YouGov, Opinium and ORB continue showing that the Leave  campaign is gaining ground. Looking at the FT's Brexit tracker, which is very cautious, it has now switched from Remain to Leave: 45% for Brexit and 43% for Bremain.
Further support awaits at 1.4050, which was a double bottom earlier in the year. The round number of 1.40 is close by and the cycle low of 1.3830 is the last bastion before the post-crisis low of 1.35 seen back in 2009. On the topside, 1.4440, 1.45 and 1.4580 work as resistance.
More:  Is your broker Brexit ready?  Updates from 9 brokers.
Here is the GBP/USD chart.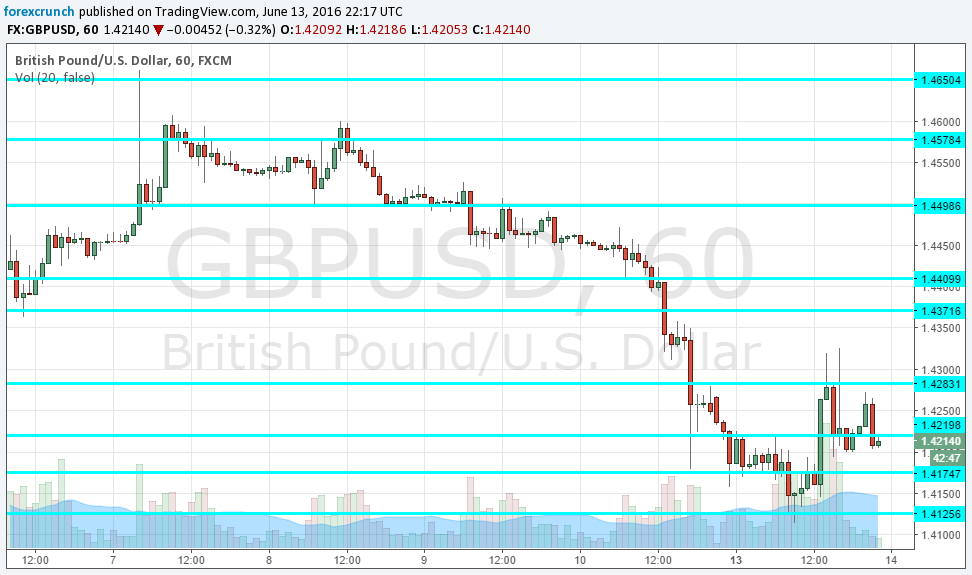 More polls from Ipsos Mori and ComRes are expected this week. The Labour Party  will step up its campaigning efforts while PM David Cameron will step back in a coordinated move.
The worries have wider effects beyond the UK.