The Canadian dollar  remains a winner, taking advantage of rising oil prices and not suffering too much when they fall. What's in store for the loonie? Here is the view from CIBC:
Here is their view, courtesy of eFXnews:
With Canadian monetary policy taking a backseat to fiscal stimulus, Fed rate hikes being delayed until later in the year and oil prices appearing to have bottomed out we've strengthened our near-term forecast for the Canadian dollar. Indeed, it's now likely that the loonie has seen the worst of the depreciation, even if it has one slight dip ahead.
The Bank of Canada's decision to keep rates on hold in January represented an important turning point for the currency. Since reaching its weakest level on the day before the announcement, a time when markets were pricing in a high probability of further monetary easing, the CAD has appreciated more than five percent. In part, that strength reflects the perception that Governor Poloz has given way to his boss, Finance Minister Morneau. The use of deficit spending by the Liberal government to stimulate the economy means that the pressure on the currency from potential monetary easing has been significantly reduced. Indeed, according to a technical report by the Bank of Canada, $10 bn worth of fiscal stimulus has more of an effect on GDP than a reduction of 100bps in the overnight rate.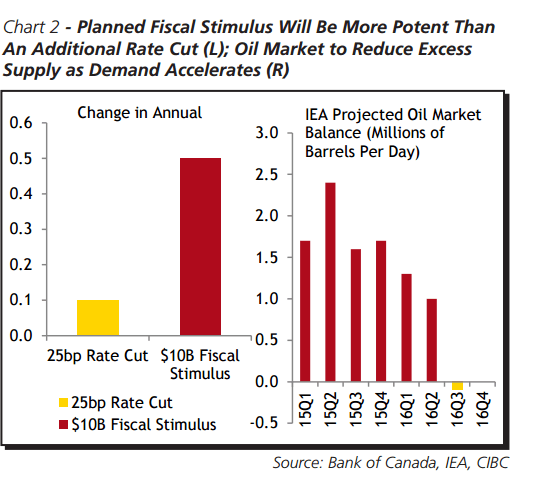 Pressure on the loonie from further Fed rate hikes has also been delayed. Market volatility and a string of soft data has seen the FOMC take a step back from their hiking cycle. While the US central bank could still raise rates later in the year, it would likely happen in an environment of better global growth and higher oil prices. CIBC Economics expects oil prices to recover during the year with supply leveling off and demand continuing to increase. That would provide at least a partial cover for the loonie from wider interest rate differentials. We say partial cover because the currency will still depreciate as monetary policy diverges, but it won't reach the depths seen in January.
As a result, the CAD shouldn't deviate too far from its current level over the remainder of the year. Looking ahead, as oil prices grind higher, the loonie should appreciate slightly, albeit remaining weak enough to keep the non-energy export sector competitive on the global stage.
CIBC targets USD/CAD at  1.38, 1.42, 1.37, and 1.36 for the end of Q1, Q2, Q3, and Q4 respectively.  
For lots  more FX trades from major banks, sign up to eFXplus
By signing up to eFXplus via the link above, you are directly supporting  Forex Crunch.