CAD/JPY is the big winner of the American Non-Farm Payrolls. The cross broke above the uptrend channel to levels last seen in June 2010. Update on this cross, which is often overlooked.
CAD/JPY Technicals
At 87.40, the pair is around 140 pips higher today, after already reaching 87.70 earlier in the day. It's the fifth consecutive day that CAD/JPY is advancing. Today's sharp move came after it broke above the uptrend channel seen in the graph.
Uptrend resistance accompanies the cross since mid December 2010, and uptrend support is with us since the beginning of January. This has now been broken with flying colors.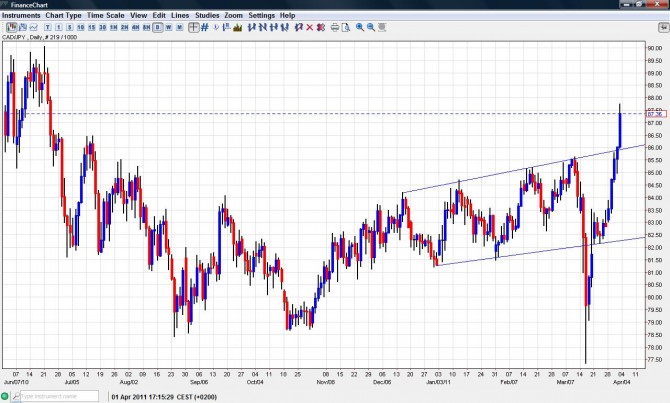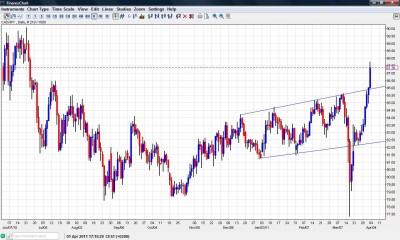 The next level to watch out for is 90, which is a round number and also a peak seen in June 2010. 92.50 is the next line above. Support is found at 85.50, which was the previous peak.
US, Canadian and Japanese events
As mentioned in the Non-Farm Payrolls preview, the Japanese yen is vulnerable and a slightly better than expected US figure, sent USD/JPY much higher. Dollar/Yen broke above the 84 line and even temporarily breached the 84.50 line, but couldn't settle above it, at least in the time of writing.
The US jobs report showed a gain of 216K jobs, slightly better than 195K that was expected, and the unemployment rate was also better – 8.8% instead of 8.9%.
Earlier, USD/JPY broke above the 83.40, following the Japanese Tankan Manufacturing Index release, which was ok, but didn't reflect the damage from the earthquake, tsunami and nuclear disaster.
On the other side of the Pacific, the Canadian dollar broke to a fresh 40 month record against the US dollar. USD/CAD is currently at 96.50. The Canadian dollar actually enjoyed the Non-Farm Payrolls – a stronger American economy helps the Canadian one. The loonie also enjoys higher oil prices and stronger growth.
For each pair separately, see the USD/JPY and USD/CAD forecasts.