The Bank of Canada left the interest rate unchanged as expected and also remains calm on inflation: with risks to inflation "roughly balanced", there is no need for quick action. The BOC shocked markets with a cut on January  21st.
The Canadian dollar likes it and USD/CAD is down around 70 pips to 1.2450 and falling. Update: the low so far is 1.2440 and we have a bounce from there.
Update:  USD/CAD extends its falls on low rise in oil inventories
Not all is rosy in the statement:  growth is projected to stand at 1.9% in 2015 instead of 2.1% in the previous record. Full capacity is on the cards at the end of next year.
The Bank of Canada was expected to leave the interest rate  unchanged once again, at 0.75%.
USD/CAD traded around 1.2525 towards the release,  swinging mostly on the action  in the US dollar.
US industrial production fell b 0.6%, double the expectations. Also the Empire State Manufacturing Index fell short of expectations.
In Canada  Manufacturing Sales disappointed, but the full focus is on Stephen Poloz and his team at Ottawa. The Governor will meet the press at 15:15 GMT.
Here is how it looks on the chart: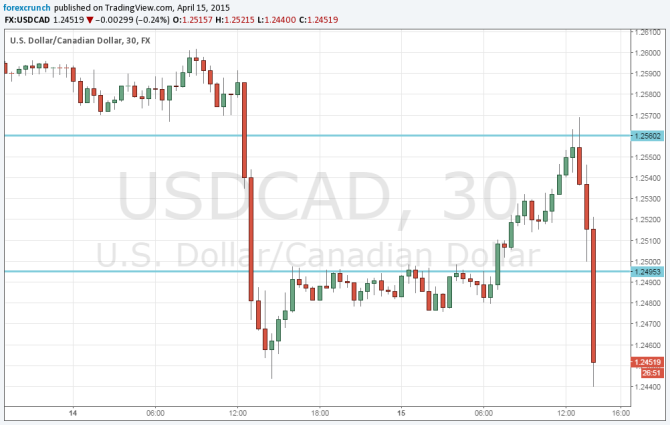 More:  Buy USD/CAD Into BoC – Barclays Trade Of The Week: