After a significant five wave reversal on dollar index from 76.85 region, we decided to look on the weekly chart, which is showing a very bullish set-up for the weeks ahead. You will notice a trend line connected from early 2008 which holds dollar index up for almost 3 years now. In fact, each time the prices moved close to a trend line, a weekly spike occurred, which then sent the US dollar much higher. May reversal scenario repeat!?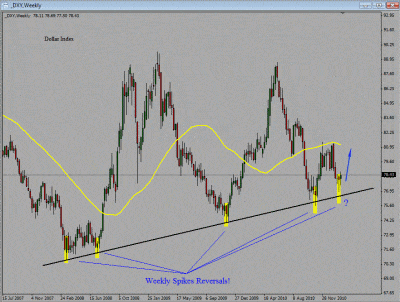 Guest post by Gregor Horvat
If you need more Elliott Wave forecast, especially on the intra-day basis, please visit our website and check Video Tour of Our Products here or follow us on twitter.  *Special Low Price Offer for new members!