EUR/USD  fell down below 1.34 and is now at the low range that characterized its trading during the previous week. Slightly weaker than expected PMIs in the old continent came out at the time of the drop, but the loss is more related to a re-emergence of fears towards the ECB meeting. Will the pair break to even lower ground? It depends on today's important release in the US.
 Here is a quick update on what's moving the pair.
EUR/USD  stabilized above 1.3415.
Current range:  1.3325 to 1.3400.
Further levels in both directions: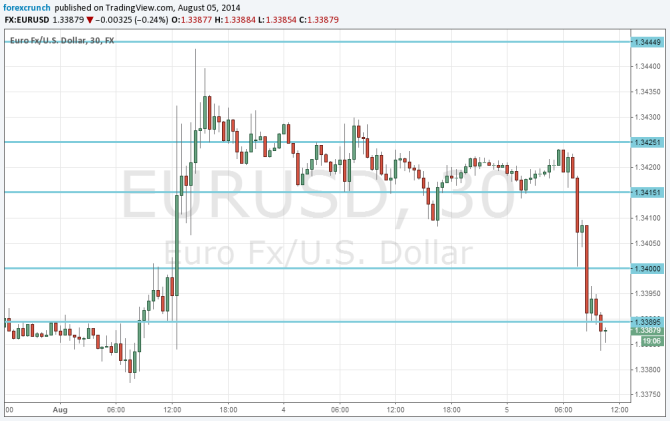 Below: 1.3365, 1.3325, 1.3295 and 1.32.
Above: 1.34, 1.3450, 1.35, 1.3550, 1.3585, 1.3610, 1.3650 and 1.3677.
1.34 returns to its role as support. The new low of 1.3365 follows.
1.3450 is strong resistance.
EUR/USD Fundamentals
7:15  

Spanish Services PMI. Exp. 55.1, actual 56.2 points.

7:45 Italian Services PMI. Exp. 53.2, actual 52.8 points.
8:00 Euro-zone services PMI. Exp. 54.4, actual 54.2 points.
9:00 Euro-zone retail sales. Exp. +0.4%, actual +0.4%.
13:45 US Markit Services PMI. Exp. 61 points.
14:00 US  ISM Non-Manufacturing PMI. Exp. 56.6 points. See how to trade the figure with EUR/USD.
14:00 US Factory orders. Exp. +0.6%.
14:00 US  

IBD/TIPP Economic Optimism. Exp. 46.2 points.
*All times are GMT.
For more events and lines, see the  Euro to dollar  forecast.
EUR/USD Sentiment