EUR/USD  made a move above the all-important 1.33 level, but yet again, didn't go to far and eventually returned to range. A hawkish comment from an FOMC dove as well as strong data in the US limited any upside moves. But can the pair also fall below the current range?  
Here is a quick update on the technical situation, indicators, and market sentiment that moves euro/dollar.
EUR/USD Technical
Asian session: Euro/dollar  remained above 1.33 for most of the time, but couldn't hold to these gains.
Current range: 1.3255 to 1.33.
Further levels in both directions: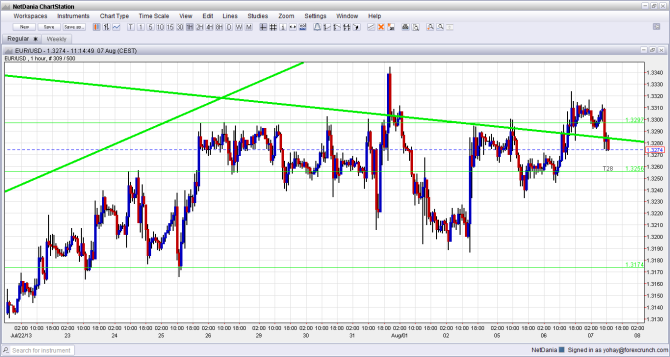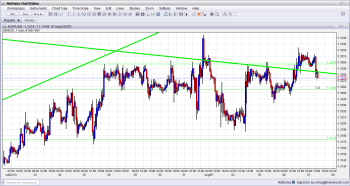 Below: 1.3255, 1.3175, 1.31, 1.3050, 1.30, 1.2940, 1.2890 and 1.2840, 1.28 and 1.2750.
Above:  1.33, 1.3350, 1.34, 1.3480 and 1.3520.
1.3255 is providing weak support. 1.31 is stronger.
After yet another false break above 1.33, the line still remains very strong.
EUR/USD Fundamentals
6:45  French Trade Balance. Exp. -5 billion. Actual -4.4 billion.
10:00  German Industrial Production. Exp. +0.3%.
19:00 US  Consumer Credit. Exp. 15.3 billion.
For more events and lines, see the  Euro to dollar forecast.
EUR/USD Sentiment
On Thursday: See how to trade the US jobless claims with EUR/USD.