Following the great NFP report in the US, EUR/USD  extended its falls and lost another round level: 1.09. The low so far is 1.0870,  and this is below the October 1999 high of 1.0910. It is also  below a trend line that can be drawn from the early days of the millennium.
The next support is still far, but we still have doubts. Why?
Here is how the most recent fall looks on the monthly chart: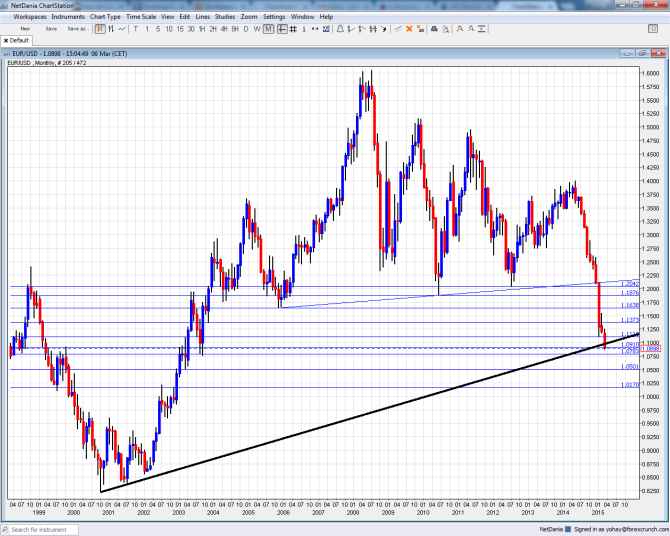 The next line of support is at 1.0783, which was the low in  August 2003, which was then followed by a lower point of 1.0760 in September. Below this point, we have a 1.05 and 1.0170 before parity.
So why could this be a false break?
Looking at fundamentals,  the report is not all that good:  a  small  negative revision and more  importantly a sluggish gain in wages, +0.1% is bad news.  The market could  focus on this instead of the 295K gain in jobs.
And this would not be the first time that a similar pattern occurs. In previous NFPs, the lows seen around the event (either before or after) marked the lows for EUR/USD for several days.
What do you think?
In the fresh podcast, we  preview the NFP, talk about  false breaks, the Australian and Canadian rate decisions, a potential easing in Japan, the widening gap within oil prices and an update on forex brokers after the SNBomb
Follow us on the    iTunes page