EUR/USD, that enjoyed a sharp rally in a steep uptrend channel, is flirting with the bottom edge of this channel just before the critical release of the NFP. Technical update on this pair.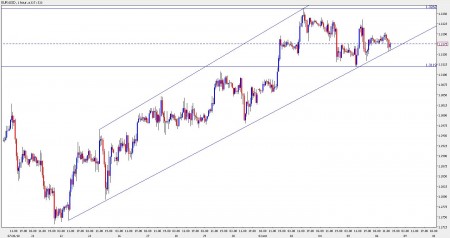 As seen in the graph (click to enlarge), EUR/USD is trading in a steep uptrend channel in the past two and a half weeks. After reaching the resistance line of 1.3267 (seen in the EUR/USD forecasts) earlier this week, the pair began trading sideways, getting close to the bottom border of the channel.
This line, marked on the hourly chart, currently stands on 1.3159, and will tick up to 1.3160 during the hour of the release. EUR/USD currently trades at 1.3172 – quite close.
Below the support line of the uptrend channel, lies the support line of 1.3114. EUR/USD made a clear break of this line at the beginning of the week, and tested it on Thursday morning – it's a strong line.
Below this line, the round number of 1.30 provides further support, followed by 1.2880. A break above 1.3267, which was a support line in April, will send the pair towards the upper border of the uptrend channel, standing at 1.3392 at the moment. Above, the resistance line of 1.3435, another former support line, will cap the pair.
Current expectations for the Non-Farm Payrolls stand on a loss of 63,000 jobs. I believe that the result will be slightly better, around 20,000. As written in the NFP preview, the focus will be once again on the private sector, and not on the headline figure. A significant gain of jobs in the private sector will boost the dollar, while a drop will inflict serious damage.
Stay tuned.
Want to see what other traders are doing in real accounts? Check out Currensee. It's free..