The latest round of dollar strength already sends EUR/USD  convincingly below the downtrend support line that accompanied it since April. Earlier in the day, when the pair slid below 1.33 and reached an 11 month low, the pair was only flirting with the line. Now it looks like a full break.  The daily chart shows the picture quite clearly (click on the image to enlarge):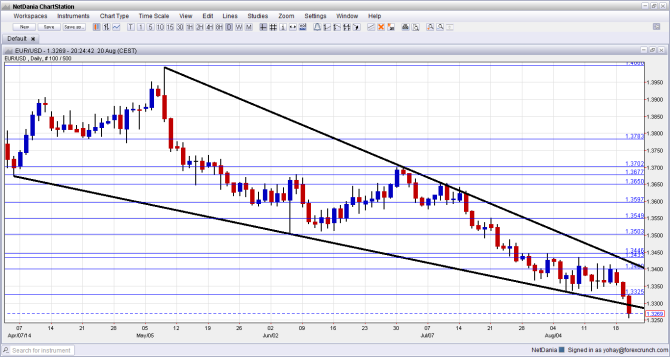 The last nail came from the FOMC Meeting  Minutes. It's hard to say they were hawkish, but the balanced nature  between those seeing weakness and those seeing strength in the labor market is different: the Fed is usually much more dovish.
It took markets a few minutes to digest the data but the end result is a breakdown. However, we might see some hesitation as the Jackson Hole speech by Janet Yellen is awaited, and Yellen leans to the dovish side.
Some support awaits at 1.3250, an area the pair got close to. Below the round  level of 1.32, we have 1.3175, which worked in the past in both directions.
Further below the round number of 1.31 works as support. Resistance awaits at 1.3295, which was the November 2013 low, followed by 1.3333, which was the previous cycle low.
For more, see the EURUSD forecast.