EURUSD is trading nicely lower for the last week or so. This could be start of a new and larger impulsive bearish trend. However, the decline from 1.3450 is actually still in three waves, so a corrective outlook must not be ignored.
We will stay with the current sentiment and focus on the bearish scenario as long as 1.3400 holds. Ideally, the market is now in the middle of an impulsive wave 3, and the broken support channel line (blue circled zone on the 4h chart) is important evidence for this count, because this breakout usually causes an acceleration that makes wave three the longest and sharpest wave.
Downside projections for wave 3 are at 1.3130 and 1.3040.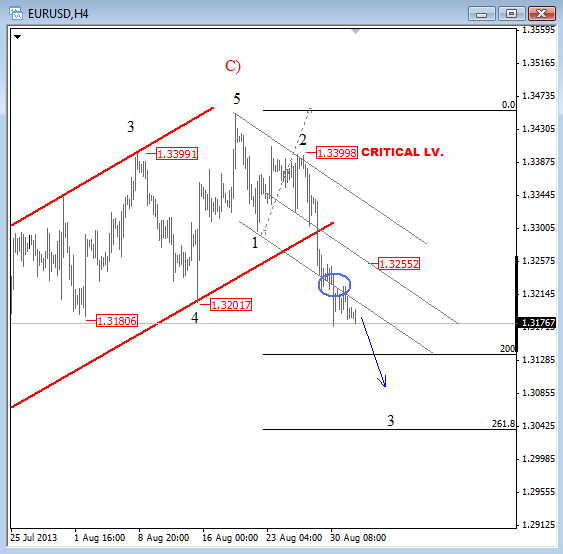 On a daily chart we can see that EURUSD has been in an uptrend mode almost all summer from 1.2750, but the recovery has  a corrective look. With that said, we think that the move is complex correction, probably a flat one, and that a larger trend will continue lower, especially if we consider a five wave decline from 1.3700 at the start of the year.
Keep in mind that impulses show the direction of a larger trend, which in our case means down. If we are correct then the latest bullish leg represents wave C) of a three wave pull-back that is already showing some evidences of a top at 1.3450.
Yet we still need a larger impulsive weakness towards 1.3000 to confirm the end point of wave (2). If the pair can do that, then EURUSD will be ready for a sharp fall in the rest of the year, probably to 1.2500 if not lower.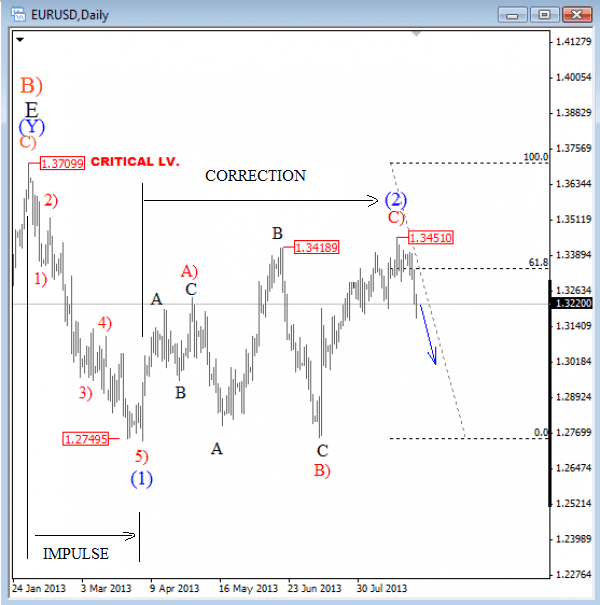 On a weekly chart we are also tracking a huge head and shoulders pattern where right shoulder could already be finished, so weakness is expected towards the neckline.