EUR/USD  is trading in a perfect range between 1.2360 to 1.24. The dollar suffered a major sell off despite OK data. However, after the pair reached  high resistance at 1.2450, it retreated back towards one lower range. The tension is mounting towards the TLTRO results tomorrow.

Here's a quick update on technicals, fundamentals and sentiment moving the pair.
Asian session: The pair continued  stabilized between 1.2360 and 1.24.
Current range:  1.2360 to  1.24.
Further levels in both directions: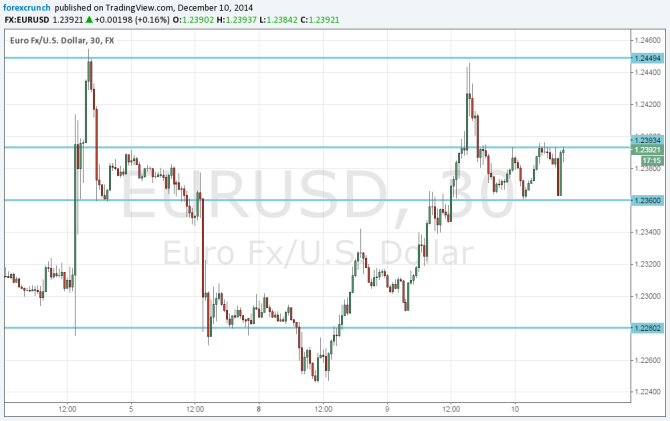 Below:  1.2360, 1.2280, 1.2250, 1.2140, 1.2042 and 1.1876.
Above: 1.24,  1.2440, 1.25 and 1.2570.
1.2450 proved to be strong resistance.
1.2360 is now support.
EUR/USD Fundamentals
6:30  French Final Non-Farm Payrolls. Exp. -0.2%, actual -0.3%.
7:45  French Industrial Production. Exp. +0.2%, actual -0.8%.
20:00 US  Federal Budget Balance. Exp. -68.3 billion
* All times are GMT.
For more events and lines, see the  Euro to dollar  forecast.
EUR/USD Sentiment
Dollar sell off: Despite a slightly better than expected JOLTS number, the US dollar extended its post NFP retracement. The euro and the yen gained very nicely. However, it was then back to reality, and the pair eventually posted a lower high.
TLTRO eyed: Tension is rising towards tomorrow's TLTRO 2 results. After a poor take up in the first tranche, another poor one now could  cement euro-zone QE. See the preview:  TLTRO: 3 scenarios for EUR/USD
Greek presidential elections:  Yes, Greece is back to the headlines. The  country approved a budget that did not receive the blessing of the troika. To try to defuse the situation, an extension of two months was agreed upon. However, it's not going to be a quiet holiday season. The government in Athens announced presidential elections for  December 17th. If parliament is unable to agree on a president with a wide majority within three rounds, snap elections are held. In this case, the opposition anti-bailout SYRIZA party could gain control according to the recent polls, and this could certainly  complicate the situation. The Athens stock exchange collapsed.
In our latest podcast, we preview December's big events, talk  about the importance of jobless claims, the crash in oil prices and GOFO going negative: