The EUR/USD just set a new 2 year low and this may not be the end. It may well extend the drop into early 2015, says the team at Barclays.
Here is the reasoning, targets and the chart:
Here is their view, courtesy of eFXnews:
Plenty of macro and technical factors are currently in play for EUR/USD to extend its slide into the coming few weeks and to start early 2015 on a weaker note accordingly, says Barclays Capital.
"We think extremely low euro area December inflation (7 January; Barclays and consensus: 0.0% y/y) will support our call for further ECB easing through the announcement of European government bond purchases at its 22 January meeting and provide a catalyst for further EURUSD depreciation during next year). In contrast, last week's December FOMC statement and press conference confirmed our view that the Fed will begin hiking rates around the middle of next year, providing broad support to the USD in the context of US economic outperformance relative to other major economies," Barclays argues.
Moreover, Barclays thinks that politics will also be an increasingly significant factor for EUR/USD over the coming weeks.
"The second (23 December) and third (29 December) rounds of the Greek presidential election are likely to be an immediate focus, with the current government unlikely to be able to secure the required number of votes in support of candidate Dimas. As such, we continue to expect a snap election to have to be organised for as early as end-January, with polls suggesting a Syriza-led coalition government likely to take power. This may prompt concern about the sustainability of Greece's EMU membership, given Syriza's radical political stance, and place further downward pressure on EURUSD," Barclays explains.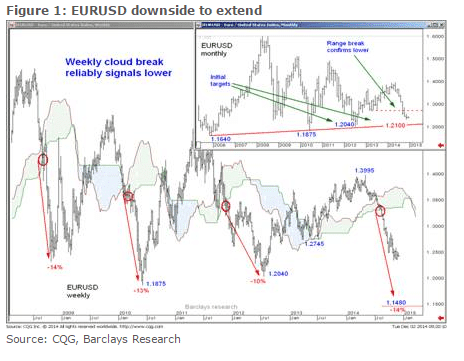 Finally, Barclays technical strategists note that recent depreciation through range-low support opens up targets around 1.21 and 1.2040.  
For lots  more FX trades from major banks, sign up to eFXplus
By signing up to eFXplus via the link above, you are directly supporting  Forex Crunch.