EUR/USD  has settled down in Wednesday trading, trying to consolidate the gains of over 100 points that we saw on Tuesday. The pair is trading in the mid-1.31 range in the European session. On Tuesday, Core CPI  pointed to  a gain of 0.2%, matching the forecast. German ZEW Economic Sentiment looked weak, but Eurozone Economic Sentiment posted a four-month gain. On Wednesday, the markets will be waiting for news out of Washington, as Federal Reserve head Bernard Bernanke testifies before a congressional committee. As well, the US will release Building Permits, a key event. It's much quieter in the Eurozone, with the German 10-year bond yield the only event on the calendar.
Here is a quick update on the technical situation, indicators, and market sentiment that moves euro/dollar.
EUR/USD Technical
Asian session: Euro/dollar  edged lower, consolidating around  1.3130.  The pair has moved up slightly in the European session, trading around 1.3150.
Current range: 1.31 to 1.3160.
Further levels in both directions: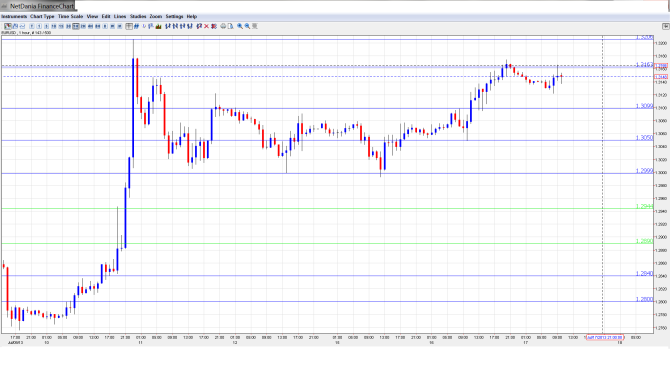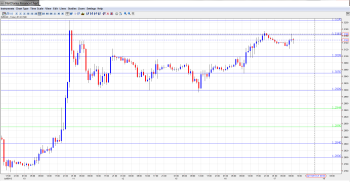 Below: 1.31, 1.3050, 1.30, 1.2940, 1.2890, 1.2840, 1.28, 1.2750, 1.27, 1.2660 and 1.26.
Above: 1.3160, 1.32, 1.3255, 1.3350 and  1.34.
1.31  is again providing weak support.  1.3050 is next.
On the upside, 1.3160 is under pressure. The round number of 1.32 follows.
EUR/USD  settles down after sharp gains on Tuesday  – click on the graph to enlarge.
EUR/USD Fundamentals
9:32 German 10-year Bond Auction, actual 1.57%.
12:30 US Building Permits, exp. 1.00M.
12:30 US  Housing Starts,  exp. 0.96M.
14:00 US Fed Chairman Bernard Bernanke Speaks. Bernanke will  testify before the House Financial Services Committee, in Washington.
14:30 US  Crude Oil Inventories, exp. -1.9M.
16:30 US Federal Reserve Governor Sarah Bloom Raskin Speaks.
18:00 US Beige Book.
For more events and lines, see the  Euro to dollar forecast.
EUR/USD Sentiment