EUR/USD  has edged higher in Friday trading, as the pair trades  in the low-1.31 range  early in the European session. The pair showed little reaction to two days of testimony  in  Congress by US Fed chair Bernard Bernanke. Bernanke did not really add anything new in his remarks, saying  that the Fed's monetary policy would remain accommodative  and QE tapering would depend on how  well the US  economy performs.  Somewhat overshadowed by Bernanke's testimony were two  excellent  releases out of the US. Unemployment Claims  came in below the estimate,  and the Philly Fed Manufacturing Index  hit  its  highest level in  over two years. On Friday, German PPI beat the  estimate, and the markets are waiting for the release of Spanish HPI. As well, finance ministers and central bankers meet in Moscow for a G20 meeting. In the US, there's a break in the action, with no releases scheduled on Friday.
Here is a quick update on the technical situation, indicators, and market sentiment that moves euro/dollar.
EUR/USD Technical
Asian session: Euro/dollar  moved higher late in the session,  hitting a high of 1.3151, before  consolidating at 1.3133.  The pair is unchanged in  the European session.
Current range: 1.31 to 1.3160.
Further levels in both directions: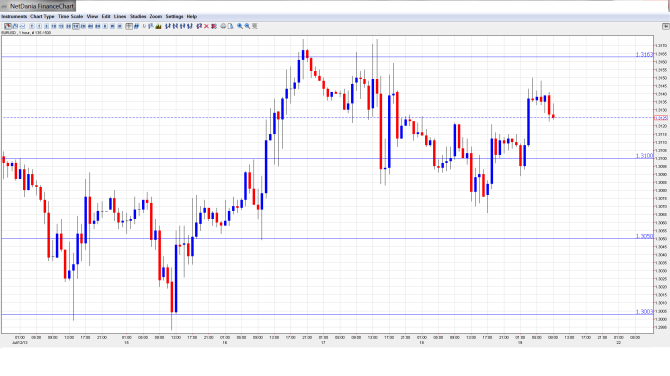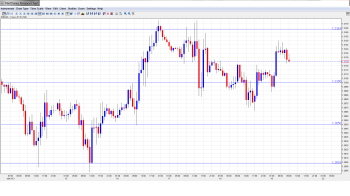 Below: 1.31, 1.3050, 1.30, 1.2940, 1.2890, 1.2840, 1.28, 1.2750, 1.27, 1.2660 and 1.26.
Above: 1.3160, 1.32, 1.3255, 1.3350 and  1.34.
1.31 is providing support, but remains weak.  1.3050 is next.
1.3160 is providing resistance. The round number of 1.32 follows.
EUR/USD  steady  as markets shrug off Bernanke testimony  – click on the graph to enlarge.
EUR/USD Fundamentals
6:00  German PPI, exp. -0.2%, actual 0.0%.
Tentative –  Spanish HPI.
Day 1 of G20 Meeting in Moscow.
For more events and lines, see the  Euro to dollar forecast.
EUR/USD Sentiment