When EUR/USD lost 1.28, it also breached the second long term uptrend support line running from November. The pair already breached a higher uptrend support line back on Friday, but bounced on this second line quite nicely.  
But now, also this line has been breached. However, with EUR/USD it is important to beware of false breaks and the pair could also bounce from this point. We have seen such behavior in the past. But, this may be the real things. Here are 4 reasons why:
Let's look at the chart: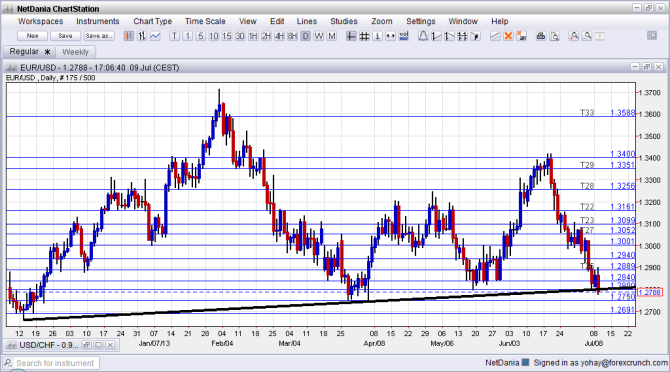 As we can see, the line running from November was touched in late March / early April. It was then tested in early July and now breached.
Here are 4 reasons why the break down may be real this time:
The ECB went into dovish gear: Draghi abandoned the "we never pre-commit" mode of the central bank and committed to keeping rates low for a long time. This was now repeated by Asmussen, a German member, which even added fuel to the fire.
The Fed is clearly in hawkish gear: contrary to the euro-zone, the economy in the US is growing, creating jobs at a more than OK rate and the central bank's next move is set to slowing the pace of bond buys. The positive JOLTS number just added fuel to the fire, by providing another sign of jobs growth. This is very very different from Europe.
Germany is no locomotive: Upbeat business surveys gave the impression that Germany can carry the euro-zone on its own. Those investing in the euro as an investment in the German economy certainly had motivation. Apparently, this is not satisfactory. Germany exports 40% of its goods to euro-zone members, and these exports are shrinking rapidly, as recent trade data shows. This is negative contagion. Draghi is no longer talking about positive contagion.
Big political crisis in Spain: a corruption scandal in the euro-zone's fourth largest economy has now reached the very top: Prime Minister Mariano Rajoy. The new revelations are all over the Spanish press, but have yet to take their toll on Spanish bonds. Nevertheless, this is another black cloud looming over the single currency.
What do you think?
For more on the euro: