After EUR/USD broke critical support at 1.3830, it managed to consolidate and even attempt to recover. But this time, the so called "teflon" currency could not hold for too long.
A second wave of USD buying already sent EUR/USD below the round number of 1.38, below the former double top of 1.3773 and below uptrend support that accompanied the pair since early February. This is how it looks like: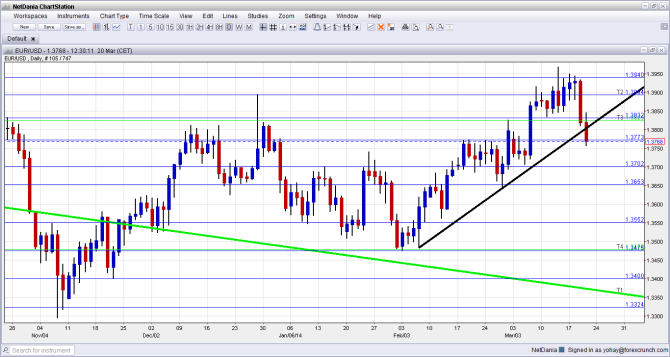 Among the  5 hawkish signs that sent the USD bulls running, a potential time frame for raising the rates is what made the dollar scream. Yellen said that the "considerable time" between the end of QE and a rate hike would be 6 months. This sets the date on April 2015. Monetary policy divergence leaps forward.
This come at a time when the ECB pledges to keep rates and current or lower levels.
EUR/USD already reached a low of 1.3755 before. The next level of support is 1.37, followed by 1.3650, but the pair is not likely to give up 1.3773 so easily.
We have quite a few important US events today. See how to trade the US jobless claims with USDJPY.