EUR/USD lost the uptrend support that characterized its trading for over a month. This trendline was successfully tested around the Non-Farm Payrolls. But now, the Euro ran out of fuel. We're still awaiting a full confirmation. Update.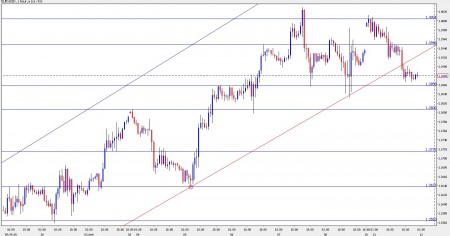 Euro bears enjoyed thin volume. American banks are on holiday to due to Columbus Day. The economic calendar isn't crowded, and trading volume is low. After having a strong start to the week around 1.40, EUR/USD descended during the day and was trading around 1.3950.
At the late hours of the European session, it made a sharper move down. At first, uptrend support held it above 1.39, but it's now broken – EUR/USD trades at 1.3865,  40 pips below the uptrend support that is currently at 1.3905.
The move is significant but not very strong – we'll still need to wait and see a full confirmation of the break.
This post will be updated if necessary.
Want to see what other traders are doing in real accounts? Check out Currensee. It's free..