EUR/USD  is back to the lower range, falling down  from the short lived bounce above 1.27. This comes despite as German  data is decidedly mixed.  The focus is  on inflation numbers today, which precede the ECB decision on Thursday. Later on, we are due to get a reminder of why the dollar is strong.
Update:  Euro-zone inflation at 0.3%, core falls to 0.7% – EUR/USD confirms break down – reaches 1.2601
Here's a quick update on technicals, fundamentals and sentiment moving the pair.
Asian session: The pair could not hold above 1.27 and fell back down.
Current range:  1.2660 to 1.27.
Further levels in both directions: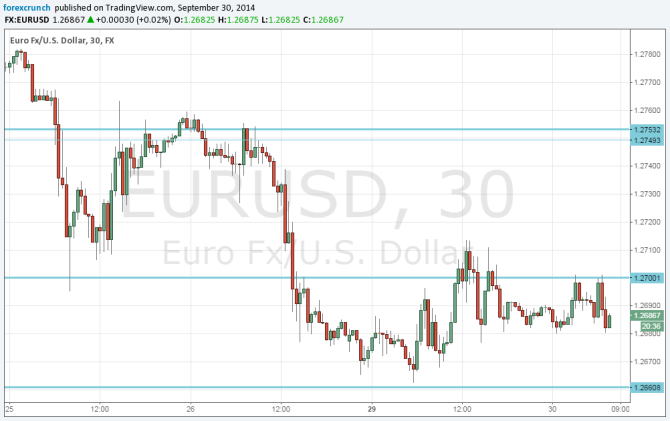 Below: 1.2660, 1.2620, 1.2587 and 1.25.
Above: 1,27, 1.2750, 1.2820 and 1.2870.
1.2660 is strong support – where the now broken uptrend began.
1.2750 is key resistance, as it was a double bottom in 2013.
EUR/USD Fundamentals
6:00  German Retail Sales. Exp. +0.6%. Actual +2.5%.
6:45 French consumer spending for two months: July -0.7%, June +0.7%.
7:55  German Unemployment Change. Exp. -2K. Actual: +12K – quite a disappointment
9:00 Euro-zone CPI. Exp. +0.3%, core exp. +0.9%.
9:00 Euro-zone unemployment rate. Exp. 11.5%.
9:00 Italian CPI. Exp. -0.3%.
13:00 US  S&P/CS Composite-20 HPI. Exp. 7.5% y/y.
13;45 US Chicago PMI. Exp. 61.6 points.
14:00 US CB Consumer Confidence. Exp. 92.2 points.
* All times are GMT.
For more events and lines, see the  Euro to dollar  forecast.
EUR/USD Sentiment
In our latest episode, we talk about Contango vs. Backwardation, Scottish reverberations and key US data:
Subscribe to our podcast  on iTunes.