The common currency lost a lot of ground to the greenback in recent months, in a gradual yet consistent grind lower. Can it extend its falls and hit even lower ground.
The team at SocGen discusses the potential downside and what does keep the euro bid:
Here is their view, courtesy of eFXnews:
EUR/USD is on its way to below 1.20 for the first time in a decade, projects SocGen.
"Transatlantic monetary policy divergence is making its presence felt, with negative ECB deposit rates particularly potent when it comes to driving money out of the euro. A weaker currency will also be the main impact of ECB sovereign QE in Q1," SocGen adds.
Specifically, SocGen  expect the EUR/USD to fall to 1.14 in 2015.  

So why not to parity?  Will it collapse after?
"…Arguably, the Rates/FX link has been re-established after a troubling break at the turn of 2013-2014. EUR/USD is even overshooting to the downside and that is how it should be now that the ECB plans a bolder expansion of its balance sheet," SocGen adds.
Nevertheless SocGen still expects EUR/USD downside to be limited by three factors:
1- Large currency moves would make the Fed more cautious. That should be a selfcorrecting mechanism.
2- Positioning is already extreme, which should limit EUR downside.
3- The euro's basic balance (current account, portfolio flows, FDI) has reached new record highs, at some €370bn over the past 12 months…Historically, that has been a strong driver of the euro . This no longer holds true but can't be ignored entirely.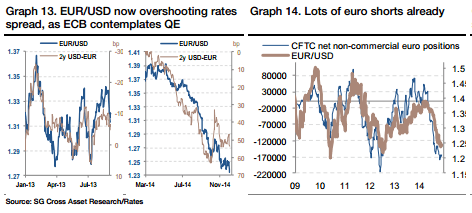 For lots  more FX trades from major banks, sign up to eFXplus
By signing up to eFXplus via the link above, you are directly supporting  Forex Crunch.