EUR/USD is trading at 1.0674, levels that seemed unthinkable not too long ago. This is the lowest since April 2003 – nearly 12 years. The low so far has been 1.0664. We already mentioned that below 1.0760, there is basically no support 1.05.
The fall is an extension of an ongoing, recovery-free fall and ahead of a speech by ECB president Mario Draghi.
Update:  Draghi sends EUR/USD below 1.0650
One of the reasons for the fall of the euro is the beginning of QE: the European Central Bank  began buying bonds on Monday. While this was well telegraphed, including the exact start date and the terms under which bonds with negative yields are bought: up to the  deposit rate: -0.20%.
President Mario Draghi addresses a conference later on, and monetary policy is on the agenda.
Another factor that is worrying markets is the ongoing debate about Greece's funding.  An extension has been agreed upon a few weeks ago, but the Greek coffers are running low. This is not in the limelight, but still weighs.
And of course, the strength of the US dollar continues to impact the pair as well. Markets continue reacting to the strong NFP and the expected removal of forward guidance in one week's time.
More:  EUR/USD targets down to 1.05 in 3m, 0.98 in 12m – CS
The low so far is 1.0664. This is immediate, weak support. Below, we have only 1.05. Above, 1.0760 was an important line back in 2003 and is now resistance.
Here is the chart: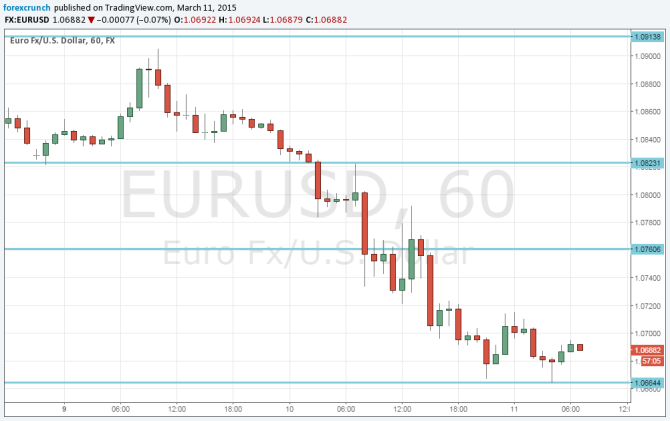 In the fresh podcast, we talk about the US economy,  the Australian and Canadian rate decisions, a potential easing in Japan, the widening gap within oil prices and an update on forex brokers after the SNBomb
Follow us on the    iTunes page