EUR/USD is flirting with the 1.30 line and currently fails to make the breakout that many people are waiting for – resistance is very strong. In the narrowing uptrend channel, it will soon have to make a decision.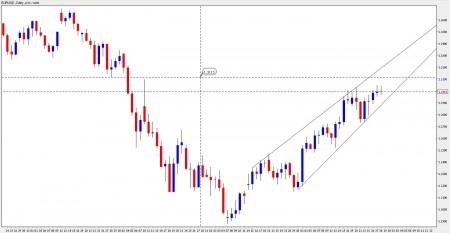 EUR/USD already crossed the psychological level of 1.30 on July 16th, peaking at 1.3007. 4 days later, it also crossed this line, reaching a higher peak – 1.3027. It also traded above the line yesterday and today, with the recent peak being 1.3046. But it doesn't really make the strong breakout that many people are expecting.
In the graph above (you can click to enlarge), you can see the narrowing uptrend channel on a daily graph. While the Euro can continue rising inside the channel, its steepness will probably not hold the pair for a long time – it will have to choose a direction – breaking above the channel and running faster, or sliding sideways and eventually falling out of it.
Regarding support and resistance lines, 1.3114 is a strong resistance line, followed by 1.3267 and 1.3435. Below, 1.2880 and 1.2670 are important lines. More lines can be seen in the EUR/USD forecast.
EUR/USD Fundamentals
More US weakness has sent the pair higher. The latest sign was the CB Consumer Confidence, that fell sharply to 50.4 points. Today's durable goods orders from the US could supply more fuel. But this isn't enough. The Euro needs its own good figures to rise.
Tomorrow, Thursday, the Euro will get a figure that usually exceeds expectations – the German unemployment change. Germany is doing far better than the other countries in the Euro-zone. If the figure will be good once again, the Euro could ride on it. There are no other significant European figures that day.
But if it doesn't make it, Friday brings a related figure, but for the whole region – the European unemployment rate. At 10%, no good news are expected. There are other figures on Friday, but this is the most important one. So, Thursday has a better chance of seeing an upside breakout in EUR/USD.
Want to see what other traders are doing in real accounts? Check out Currensee. It's free..