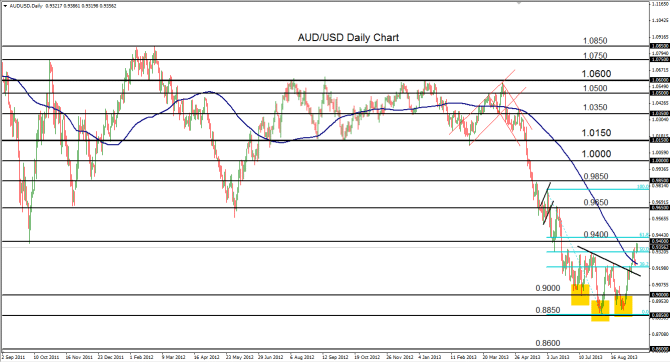 September 16, 2013 – AUD/USD (daily chart) has advanced further to approach major resistance around the 0.9400 level, establishing almost a three-month high for the currency pair. This advance continues a bullish leg that has been in place for the past two weeks since the lows around 0.8900 in late August and early September. Earlier this month, this bullish leg also broke out above the "neckline" resistance of a well-formed, inverted head-and-shoulders reversal pattern with its left shoulder around the mid-July 0.9000-area low, its head around the early August 0.8850-area low, and its right shoulder around the noted late August 0.8900-area low. After breaking out above that neckline, price also broke out above the downward-sloping 100-day moving average. With key support now residing around the 0.9225 level, a breakout above the current 0.9400 resistance would help confirm the potential upside reversal, with the next major resistance objective to the upside residing around 0.9650.
James Chen, CMT
Chief Technical Strategist
City Index Group
Forex trading involves a substantial risk of loss and is not suitable for all investors. This information is being provided only for general market commentary and does not constitute investment trading advice. These materials are not intended as an offer or solicitation with respect to the purchase or sale of any financial instrument and should not be used as the basis for any investment decision.