AI Trading – Top Brokers & Software
AI trading is an innovative new approach to trading the financial markets, offering a seamless and stress-free method of generating profits. By harnessing the power of AI, traders can benefit from increased efficiency and faster execution times – leading to much better performance in the long run.
In this guide, we discuss AI Trading in great detail – covering everything you need to know about this trading method and highlighting the best  AI  trading platforms available this year.
Best AI Trading Platforms List
The list below presents the top five AI  trading platforms available for traders to use. In the following section, we explore each of these platforms in detail, providing you with all the information you need to begin AI trading.
eToro  – Overall Best  AI  Trading Platform
Learn2Trade  – Best  AI Trading Signals
Capital.com  – Best  AI Trading Suggestions + MT4 Support
British Bitcoin Profit – Best  AI Trading Crypto Robot
Forex Fury – Best  AI Trading Forex Robot
3 Provider that matches your filters Providers that match your filters
Funding Methods
Regulated by
FCACYSECASICCFTCNFABAFIN
Funding Methods
Regulated by
FCACYSECASICCFTCNFABAFIN
Funding Methods
70.8% of retail investor accounts lose money when trading CFDs
Regulation
FCA CYSEC ASIC CFTC NFA BAFIN
FCA CYSEC ASIC CFTC NFA BAFIN
Additional characteristics
Best  AI  Trading Platforms Reviewed
As you can see from the list above, there are various AI trading suppliers on the market, each offering a service tailored to specific traders. In the section below, we present AI  trading software reviews for each of these providers, ensuring you have all the information you need to make the right decision-making.
1. eToro – Overall Best AI Trading Platform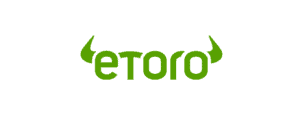 Our number one pick when it comes to AI  trading systems is eToro. eToro is one of the  best stock brokers  in the world, offering its services to over 20 million users. The eToro platform is regulated by top entities such as the FCA and CySEC – and is even covered under the FSCS, in the unlikely instance that the company goes bankrupt.


We recommend eToro when it comes to AI trading as the online trading platform offers two beneficial features. Firstly, eToro provide a handy 'CopyTrader' feature that allows users to automatically copy the trades that other users make – with no extra charge! Although not technically 'AI trading', this process will enable users to benefit from the trading prowess of experienced traders on the eToro platform, which is ideal for new traders looking to generate profits right away.
Another great feature of eToro's platform is the 'CopyPortfolio' feature. These CopyPortfolios work in a similar way to the  best investment funds, in the sense that they are a portfolio of assets that are professionally created and managed. eToro users can invest in these portfolios directly through the online platform – with no added management fees! Overall, using the CopyTrader and CopyPortfolio features makes us recommend eToro as the best  AI  trading platform at present.
Pros
0% commissions when placing trades
CopyTrader features allows free copying of other traders
CopyPortfolio feature allows investing in professionally managed portfolio
Regulated by FCA
Covered under the FSCS
Cons

High minimum investment for CopyPortfolios
67% of retail investors lose money trading CFDs at this site
2. Learn2Trade – Best AI Trading Signals

Learn2Trade is a fantastic platform to use for AI forex trading, thanks to the handy signals service offered by this provider. Over 25,000 traders use Learn2Trade's signals, provided by a team of professional traders with years of experience in the market. Through these signals, users can generate substantial profits every week – without the need to spend hours and hours doing research.


Learn2Trade's VIP signals telegram provides 2-3 signals per day, with a 76% success rate. Essentially, this means that, for every four trade ideas sent out, three of them will be winners! The VIP group is priced at £35 per month; however, if you opt for the bi-annual package, you'll get six months of signals for only £95.
In addition to the AI forex trading signals offered by Learn2Trade, they also provide some of the  best crypto signals. These all come directly to your phone, ensuring you always have access to profitable trade ideas whilst on the go.
Pros
Over 25,000 users
Signals provided by team of professional traders
VIP signals group provides 2-3 signals per day
Free signals group offered
Huge discount when buying longer plans
Cons

No automated trading system
There is no guarantee that you will make money with this provider. Proceed at your own risk.  
3. Capital.com – Best AI Trading Suggestions + MT4 Support

Another platform that harnesses the power of AI  trading software is Capital.com. Capital.com is known as one of the  best CFD brokers on the market, offering hundreds of assets for users to trade. The platform is regulated by CySec and MiFID, ensuring all users are protected.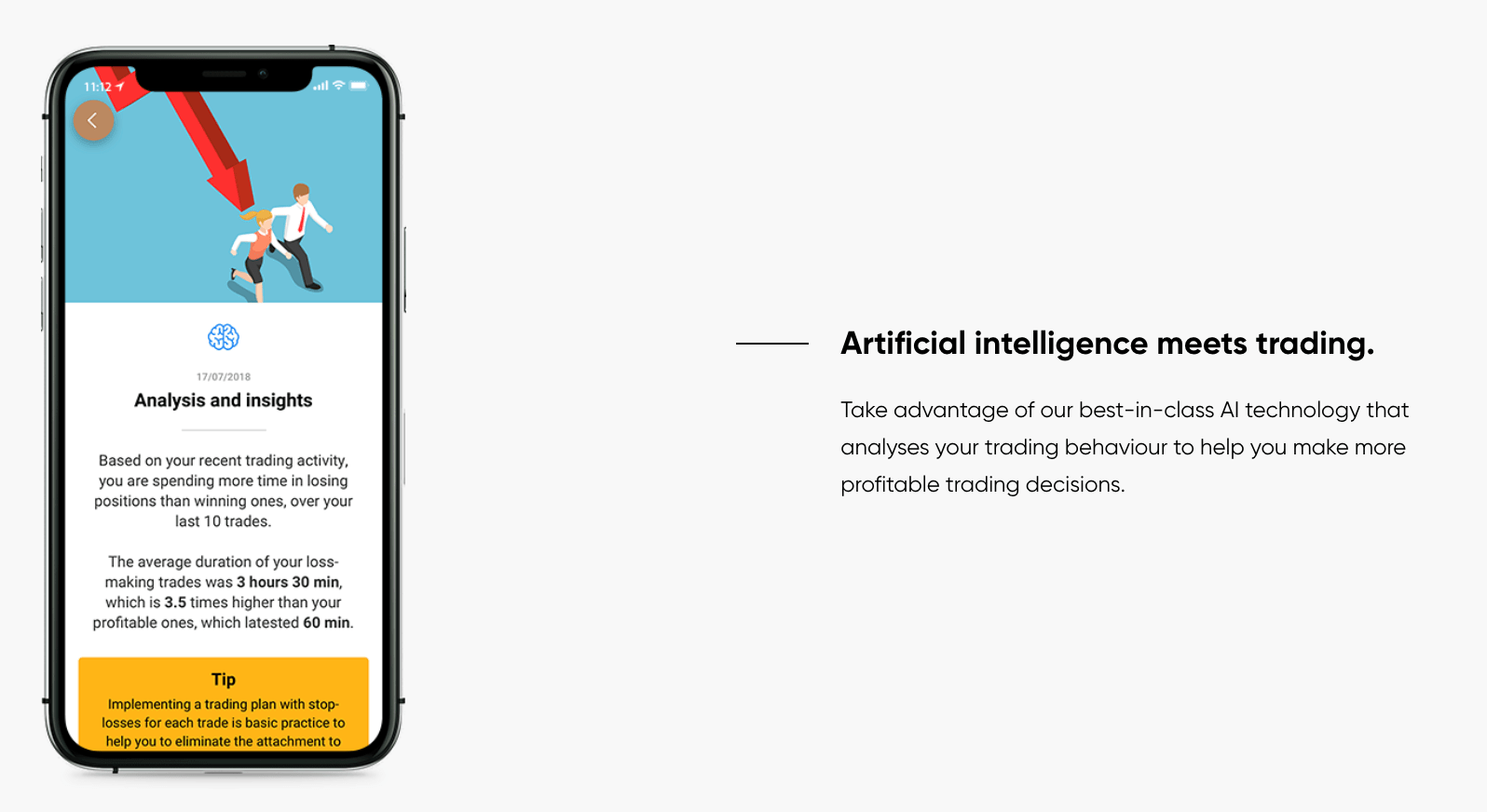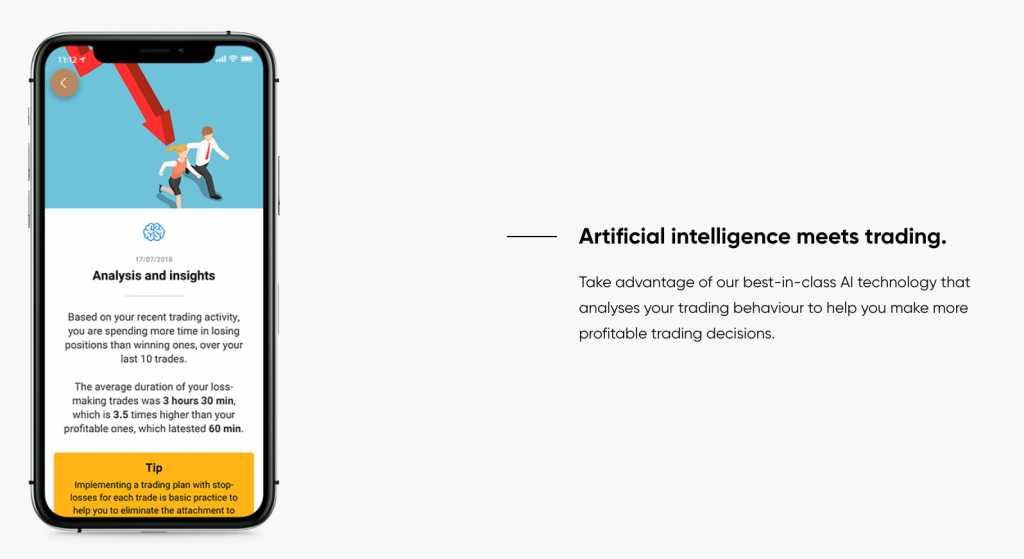 One of the most appealing elements of Capital.com's platform is the use of artificial intelligence stock trading software to provide insights into trading performance. Capital.com uses a powerful AI system to monitor how you perform in the market, analysing your trading behaviour and providing insight that can help you make better trading decisions. The handy AI suggestions on Capital.com's app act as 'share tips' that can help you become a more profitable trader.
In addition, Capital.com's platform is very user-friendly – with 0% commissions charged when trading CFDs. What's more, Capital.com offers a vast library of educational resources for traders, including video tutorials, market breakdowns, and articles.
Pros
100% commission-free stock CFD trading
Trade over 3,000 stocks from the UK, US, and Europe
AI technology helps your trading
Huge amount of educational materials
User friendly app
Cons

71.2% of retail investor accounts lose money when spread betting and/or trading CFDs with this provider.
4. British Bitcoin Profit – Best AI Trading Crypto Robot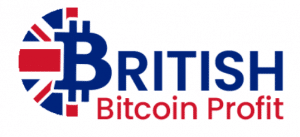 If you are looking for artificial intelligence trading software that can help you with  cryptocurrency trading, then British Bitcoin Profit is what we'd recommend. British Bitcoin Profit is known as a 'trading robot', which means that it's a specially designed piece of AI trading software that can trade the financial market on your behalf. Due to this, these robots are ideal for beginner traders or for people who don't have the time during the day to sit at the charts!


British Bitcoin Profit uses advanced AI technology to scan the markets 24/7, looking for profitable trade opportunities by employing various valuable strategies. Once an opportunity is found, this AI crypto trading bot then places a trade instantly – often much quicker than a human could! This ensures that trades are executed at the optimal pricing, leading to more significant profits.
One of the most appealing aspects of this AI  trading platform is that it's 100% free to use! All that's required is a minimum deposit of $250 for the robot to trade with, and then you're good to go! Furthermore, British Bitcoin Profit even offers a handy demo feature to use first so that you can get risk-free experience in the market.
Pros
Fully automated crypto robot
Uses advanced AI to generate trade ideas
100% free to use
Fast execution speeds
Handy demo account feature
Cons

There is no guarantee that you will make money with this provider. Proceed at your own risk.  
5. Forex Fury – Best AI Trading Forex Robot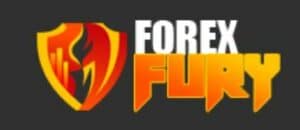 Rounding off our list of the best AI trading platforms is Forex Fury. Forex Fury is ideal for people looking to get involved in AI forex trading, as it is compatible with MT4 and MT5. This makes Forex Fury one of the best forex robots  available on the market today.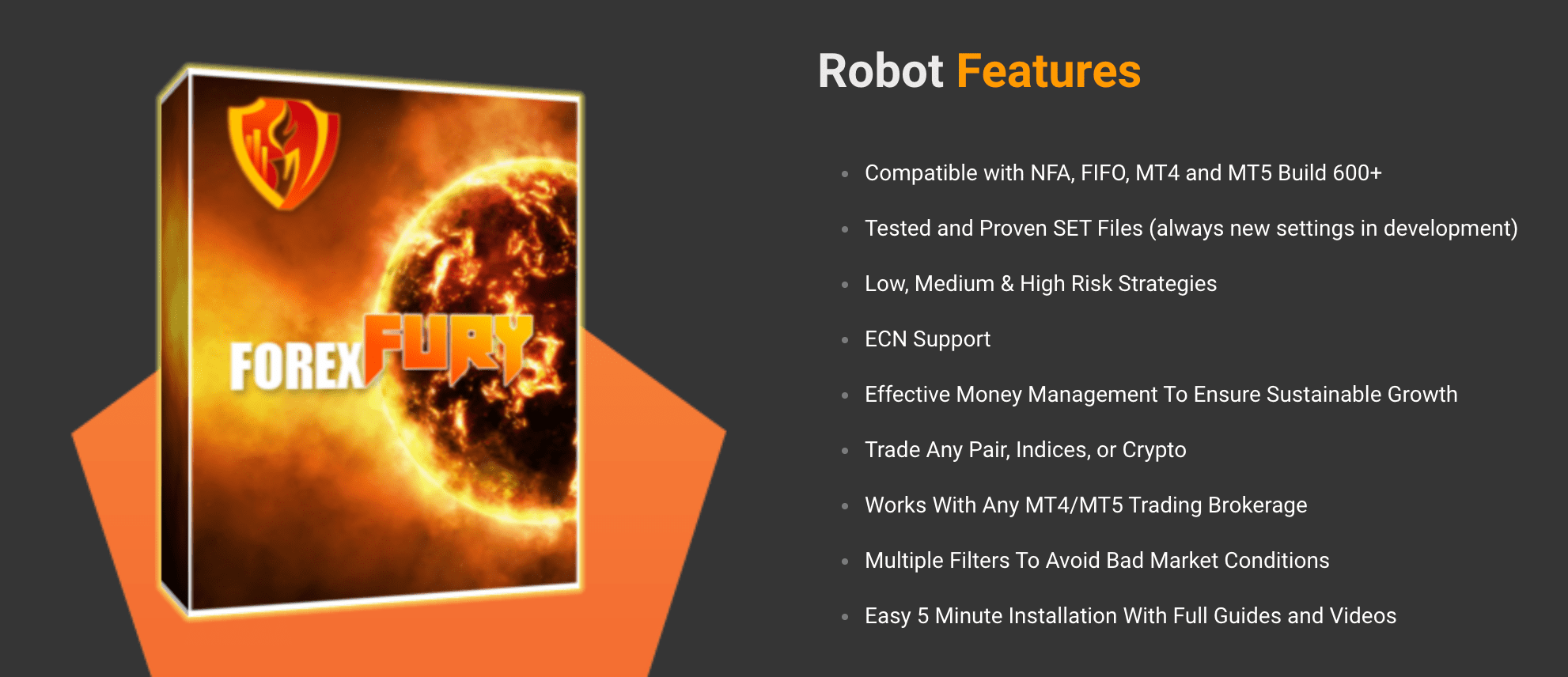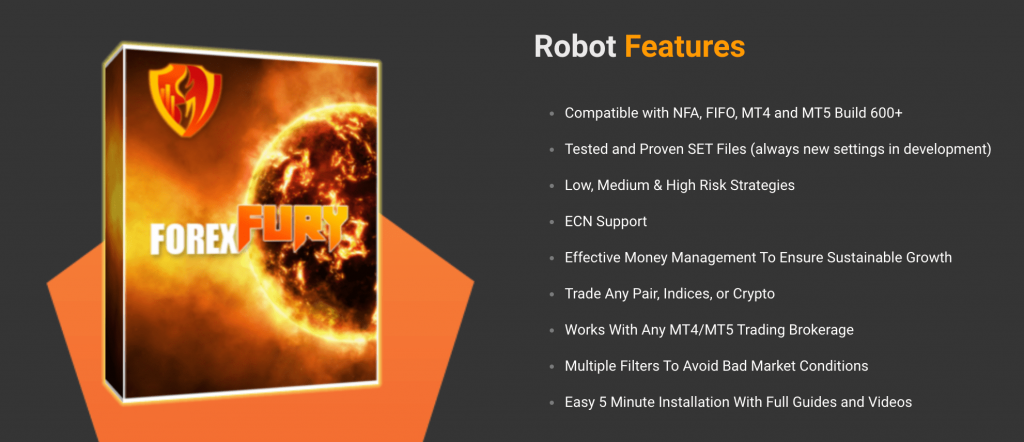 Much like British Bitcoin Profit, this AI  trading software acts as a 'robot' that can scan the FX market for trade opportunities and instantly place trades. Forex Fury boasts a 93% winning track record, which is verified on Myfxbook. Furthermore, users can even utilise a low, medium, or high-risk strategy, ensuring this robot has versatility across the board.
Installing Forex Fury only takes around five minutes and is very simple to do. The robot costs $229.99 to purchase, which gives you a lifetime membership. Finally, Forex Fury allows you to use any MT4 broker with the robot's system – meaning that you get the security of using your own broker whilst still reaping the rewards of using this robot!
Cons

Price point is quite high
There is no guarantee that you will make money with this provider. Proceed at your own risk.  
What is AI Trading?
So, what is AI trading? Put simply, AI  trading software offers a seamless and stress-free way of trading the financial markets. Most AI trading is conducted through 'trading robots', which are specially designed algorithms based in data science that can research the market and place trades on a user's behalf. These robots utilise artificial intelligence technology and machine learning in their trading  strategies which allows them to forecast hundreds of scenarios in real-time – leading to the most effective trades.
This approach is very similar to algorithmic trading because users can harness the power of technology to bolster their trading results. As AI systems are completely objective, they do not fall victim to the psychological biases that we humans do. As such, trades are often much more effective when using AI – and combining this with the super-fast execution speeds offered usually results in better profits.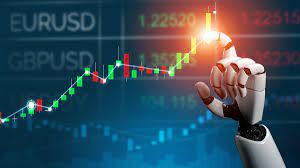 Overall, AI trading is a great way to operate in the financial markets if you are a beginner or don't have enough time to conduct backtesting of historical data. As the AI technology can research and place trades much faster than a human can, this allows you to go about your day whilst the AI trades in the background – providing a stress-free trading experience!
AI Forex Trading
If you are interested in  forex, then AI technology can help you improve and generate higher returns. Most AI trading in the FX market occurs through the use of forex robots, which are dedicated algos that can trade on your behalf. Usually, these robots are designed and developed by professional traders and then offered to the masses for a price – although some are free to use.
The automation technology used by these robots can scan the FX market 24/5, ensuring that no lucrative trade opportunities are missed. Furthermore, many robots use powerful trading algorithms that can monitor various currency pairs (such as EUR/USD) at the same time! Once a trade opportunity is spotted, the AI forex trading software then places a trade instantly and also uses the most optimal stop loss and take profit levels. This whole process allows you to trade the FX market without having any manual input whatsoever.
AI Stock Trading
This technology can offer AI stock trading software too. Like forex robots, AI software involved in the stock market can analyse hundreds of data points in real-time and then forecast all of the potential scenarios for a stock's price. By predicting these scenarios, the AI technology can 'predict' where a stock will go and then place an appropriate trade.
Many AI stock trading platforms will ensure complete beginners can use their systems. This is ideal for people with no prior knowledge of the stock market or technical analysis, as it allows them to learn the ropes whilst also generating profits.
AI Crypto Trading
Finally, many AI platforms offer crypto trading services too. The growth in popularity of the cryptocurrency market has meant that there is a growing demand for automated trading systems using AI. Many providers, such as Learn2Trade, have begun to offer AI  trading platforms and signals designed to streamline the crypto trading process.
Some AI platforms, such as the  best Bitcoin robots, employ various strategies simultaneously to generate trade ideas with a high probability of winning. As the cryptocurrency market is still growing, these robots are continually performing deep learning and refining their approach. Using one of these platforms is a great way to trade effectively and safely.
Benefits of AI Trading
As you can see from the sections above, AI trading can be applicable in a whole host of different situations. Through our research and trading experience, we've found numerous benefits of using systems such as this. Found below are three of the main benefits we've discovered when AI trading:
Removal of Emotion
The vast majority of the  best investment books  all state the same thing – emotion is bad for trading. When we become emotional, we tend to make trading mistakes that can result in losses. However, as AI  trading software is entirely objective, emotion doesn't come into the equation – meaning that trading is much more effective.
Monitors the Markets 24/7
As humans, we can't keep an eye on the charts every single minute of every single day. Due to this, there's always a chance that when we look away from the chart, we may miss an excellent trading opportunity.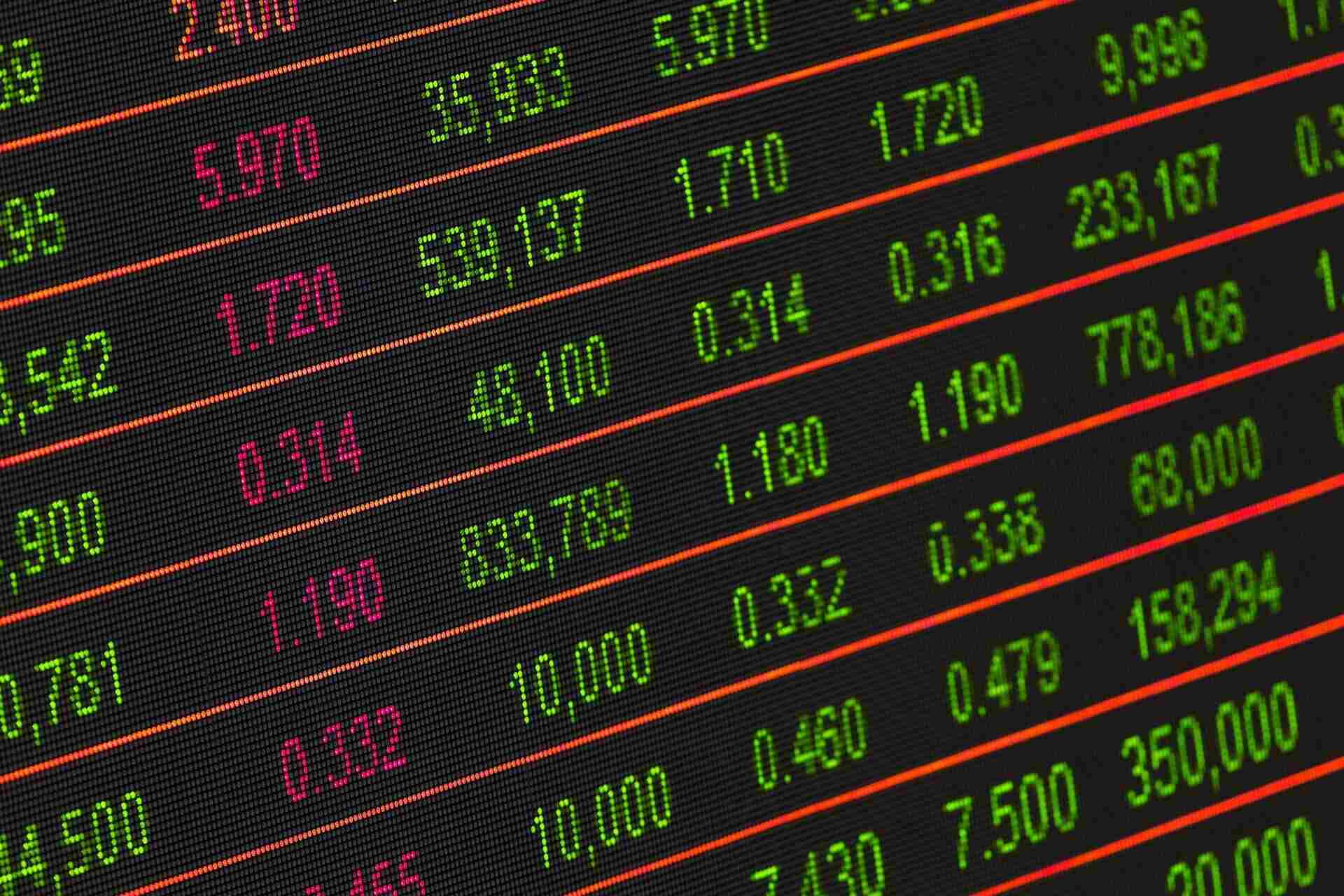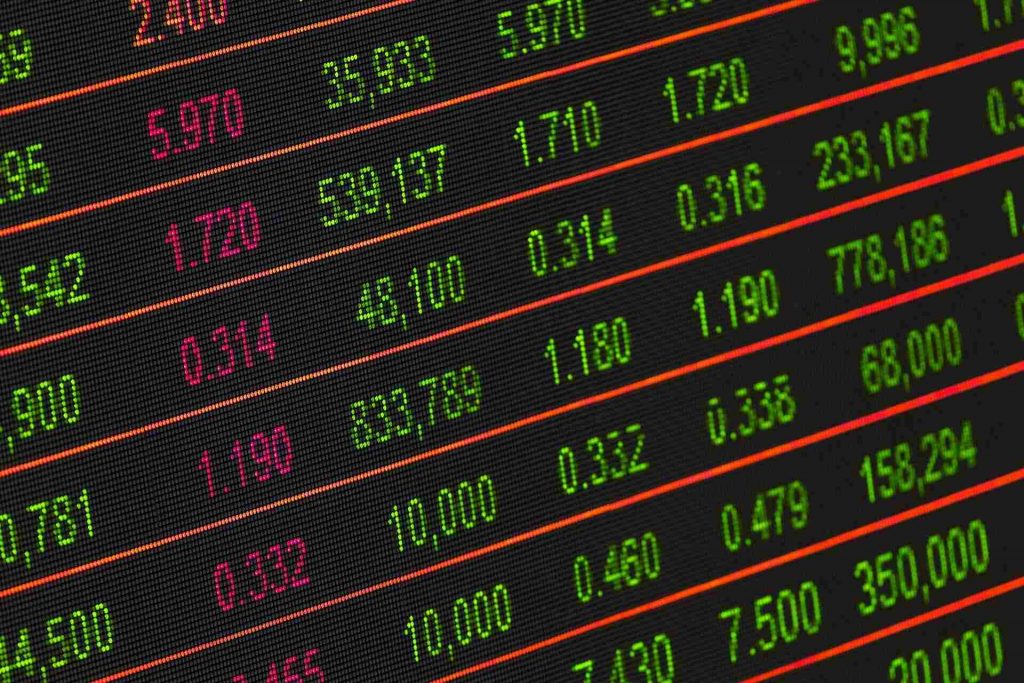 However, when AI trading, it's possible for AI algorithms to monitor the charts 24/7. This ensures that no trade opportunities are missed – even when you're asleep! Over the long run, this will enable you to enter more effective trades and generate more significant profits.
Incredible Analysis
One of the best things about AI trading is that the technology allows for insane levels of market analysis. AI technology can analyse hundreds (if not thousands) of pieces of market data simultaneously, leading to super-accurate price forecasts. These forecasts then allow the AI to create profitable trade ideas and act on them instantly.
Humans are unable to match the depth and speed of analysis that AI technology can complete. What's more, the AI can do all of this in real-time – which means that if a news event occurs, the AI can analyse it instantly and place trades that are suitable for the current market conditions and volatility!
AI  Trading Systems Explained
Whether you're  forex trading, equity trading, or cryptocurrency trading, using an AI system can give you the edge you need to generate more significant profits. As noted earlier, these systems can trade the market automatically, requiring no manual input. The points below present a typical example of how these AI  trading systems work:
You find an AI  trading system that suits your needs
Once downloaded and installed, you alter the settings to suit your unique risk level and goals
You opt to 'go live' with the AI  trading system
The AI system then scans the markets on your behalf and places trades when it sees fit
You automatically receive the profits generated by the AI into your brokerage account, where you can withdraw or reinvest them
This process may differ slightly depending on the provider, but most AI systems work similarly. The only manual input needed is the initial setup and altering of the settings – once that's complete, then you're good to go!
Copy Trading
Another interesting aspect that is related to AI technology is  copy trading. Copy trading essentially does what the name suggests – it allows you to copy the trades or investments made by other traders. Most of the time, users will copy the transactions made by professional or experienced traders, as these will have the highest chance of returning a profit.


Through our research, we've found the best copy trading system to be the one offered by eToro. eToro's 'CopyTrader' feature allows users to quickly and automatically copy the trades of other eToro users. It's easy to search for traders with high success rates and then set up the system so that when they trade, you automatically trade too.
This CopyTrader system is ideal for new users who wish to learn about the market whilst also generating profits. What's more, eToro also offers a 'CopyPortfolio' feature that allows users to invest in professionally managed portfolios without paying any management fees! So, if you are looking to get involved in copy trading, eToro offers the best route to do so.
AI  Trading Bots
AI  trading bots are a fantastic way to trade the market in a completely automated fashion. Whether you are looking to  buy cryptocurrency, trade the FX market, or invest in stocks, there's an AI bot that will suit your needs. As noted previously, these bots are essentially advanced pieces of AI technology that can do all of the things that we humans can – except they are much faster, more efficient, and show less emotion.
These factors allow AI  trading bots to trade more profitably and remove the need for manual input. These days there are numerous AI  trading bots on the market, each with its own features and plus points. However, through extensive research and testing, we've narrowed the choices down to a select few that we feel offer the best systems for various trading types:
Crypto Trading
British Bitcoin Profit – Best Crypto  Trading Bot Overall
QuantumAI – Best Crypto Bot for Beginners
Bitcoin Revolution – Best Crypto Bot with a High Win Rate
Forex Trading
Forex Fury – Overall Best Forex Robot
Commodity Trading
Oil Profit – Best Trading Bot to Trade Oil
As you can see from the options above, there are various robots out there that cater to specific asset types. These bots represent the best options on the market for each asset – so if you are interested in trading automatically, it may be worth considering the systems above.
Trading Signals
If you're looking to have a more 'hands on' approach to trading, then trading signals might be a good option for you. The  best forex signals  and crypto signals are designed to provide many of the top benefits of AI  trading systems, but with a manual element added. Traders who prefer to place trades manually may be more inclined to use trading signals instead of trading robots, as they do not require you to provide access to your trading capital.
Typically, trading signals will come directly to your phone via text message or email, with Telegram being the app of choice for many providers. Each signal will state the asset to be traded, along with the entry point, stop loss, and take profit. Once received, you simply have to wait for the conditions to be met and then place the trade – all the research has been done for you!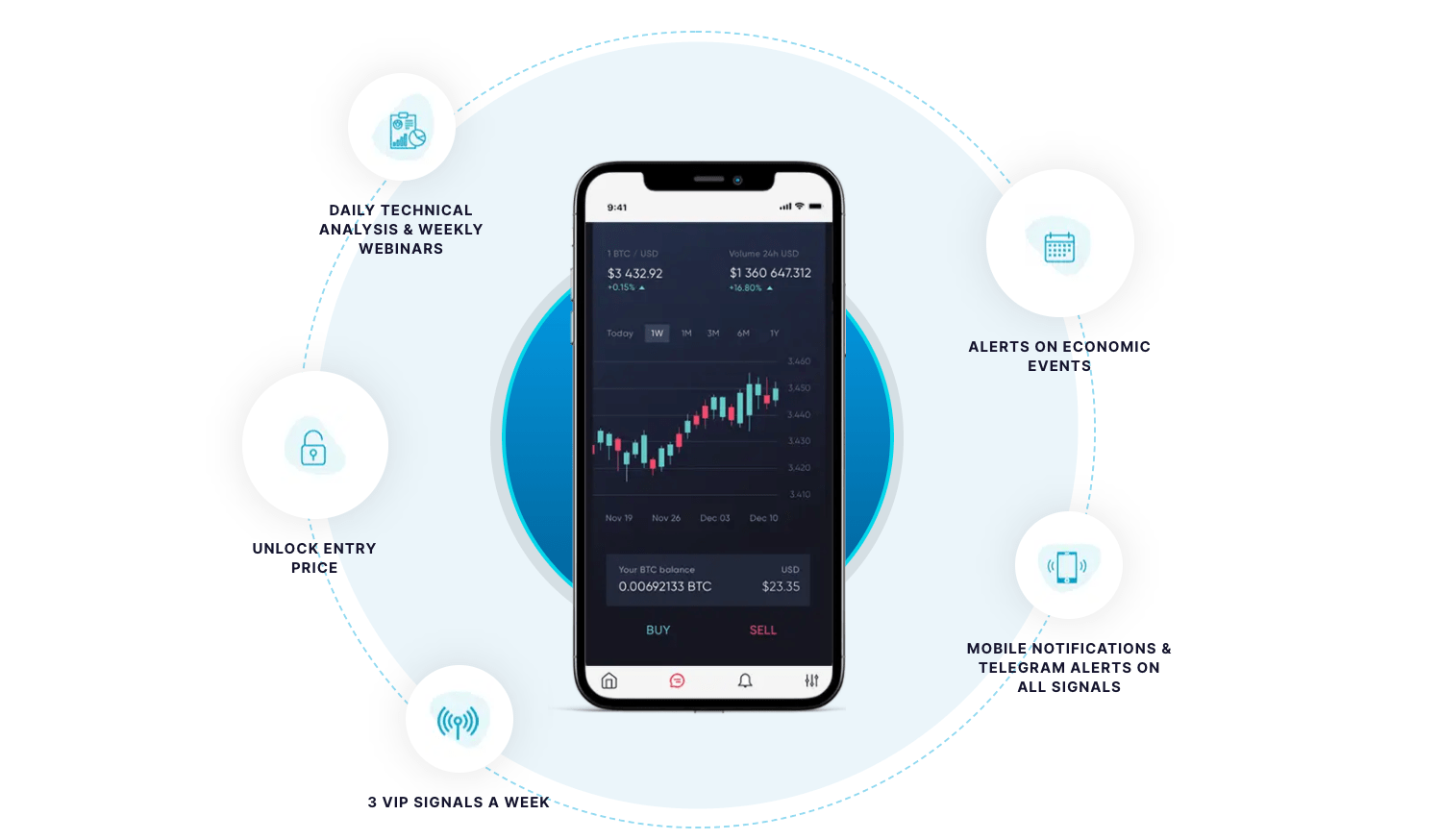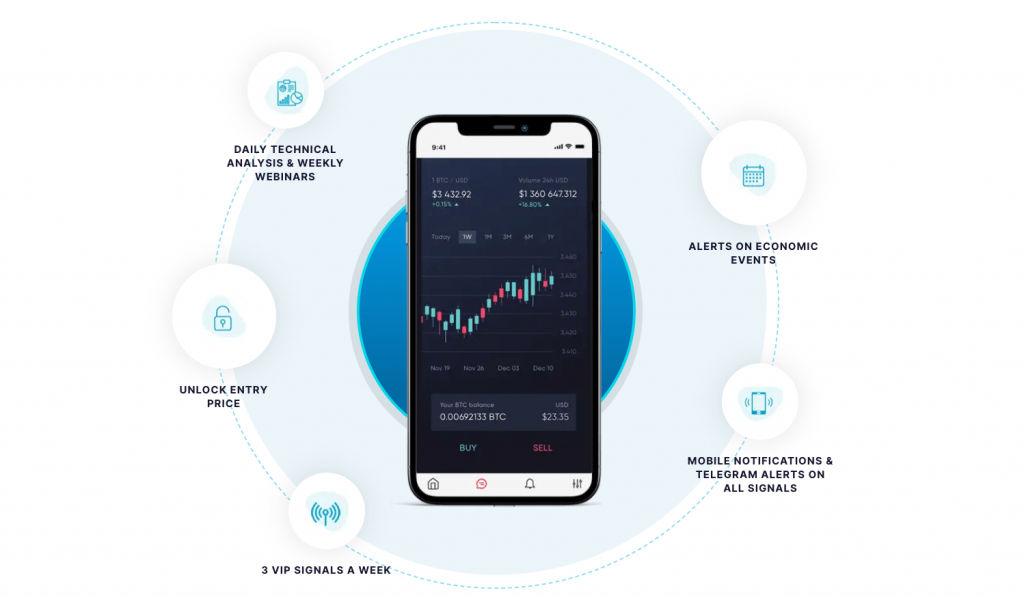 If you are interested in trading signals, we highly recommend  Learn2Trade. Learn2Trade offers a VIP telegram group that provides 2-3 signals every day, with a  success rate of 76%. What's more, Learn2Trade even provides a free Telegram signals group that provides three signals per week, which is a great way to test the waters before opting for the paid package.
We'd also recommend checking out  Cryptosignals.org  as well. Much like Learn2Trade, cryptosignals.org provides daily signals through Telegram, catered to the cryptocurrency market. These signals have an 82% success rate – meaning that 8/10 trades will result in a profit!
AI Trading Tips
If you are AI trading for the first time, here are five top tips that will help you use the technology effectively:
Tip 1: Find a Reputable Provider – The most important aspect of AI trading is finding a provider with a solid track record and a safe platform. Earlier in this guide, we presented a breakdown of the best  AI  trading platforms on the market right now – so it's a good idea to review those to find one that suits you.
Tip 2: Start Small – Although AI trading can result in huge profits, it's a good idea to start with a small amount of cash before building your way up. This will allow you to get comfortable with the settings and become more efficient going forward.
Tip 3: Tweak the Settings – AI  trading platforms will typically have settings that you can alter to suit your needs. These include risk level and trade volume – so make sure to set these up appropriately.
Tip 4: Don't Let Emotion Get In The Way – Although AI systems trade without emotion, you still need to be aware of your emotions too. It's unwise to constantly check in on the system to see how it's doing, as sometimes this can lead to worry and stress. We advise only checking in once per day so that the system has leeway to use its strategy effectively.
Tip 5: Understand The Probabilities – Finally, although AI  trading platforms often have great success rates, there's always the possibility of entering a losing trade. If this happens, don't panic! If the probabilities are in your favour, over the long term, you'll be able to win much more trades than you'll lose.
Pros & Cons of AI Trading
Found below is a breakdown of the main pros and cons to be aware of when AI trading:
AI Trading Pros
Completely objective – no human biases
Can trade 24/7, so never misses an opportunity
Can use multiple strategies simultaneously
No emotion, so trades are more efficient
Super quick execution speeds
Often requires little trading experience
AI Trading Cons

Requires an initial setup before trading
Some AI trading providers overstate their win rate
How to Use an AI  Trading Platform
So, now that you have a comprehensive understanding of AI trading, it's time to take a look at the process of using an AI based trading platform. We recommend using eToro  for this, as they offer a well-respected and regulated platform with multiple useful AI trading features.
Step 1: Create an eToro Account
Head over to eToro's website and click 'Join Now'. Enter a valid email address and choose a username and a password for your account.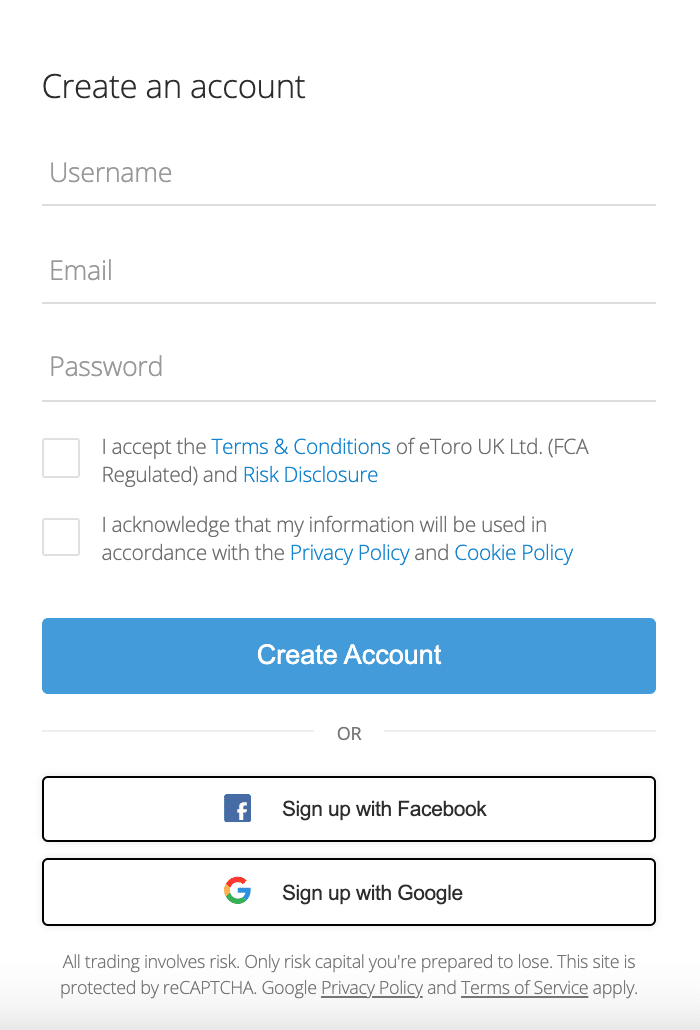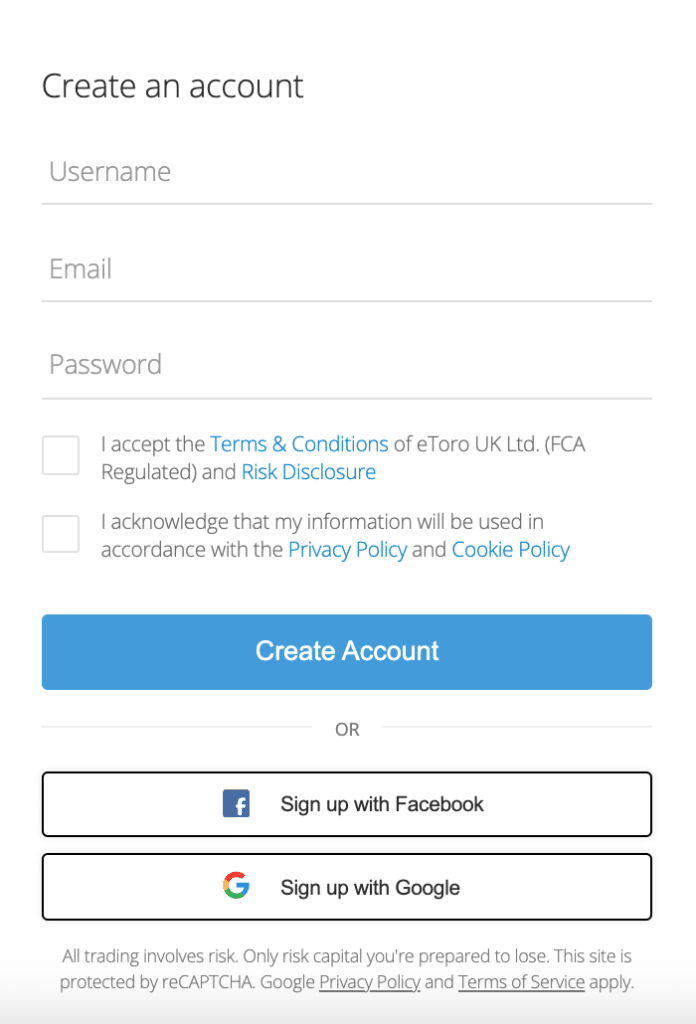 67% of retail investors lose money trading CFDs at this site
Step 2: Verify your Account
As eToro are policed by numerous top regulators, new users must verify themselves before trading. To do so, simply provide the necessary information for eToro's KYC checks and then upload proof of ID (a copy of your passport or driver's license) and proof of address (a copy of a bank statement or utility bill). eToro will then verify these documents, which usually only takes a few minutes.
Step 3: Make a Deposit
New eToro users must deposit at least $200 – although this does decrease to $50 for any subsequent deposits. All deposits are free to make and can be completed using the following options:
Credit card
Debit card
Bank transfer
PayPal
Neteller
Skrill
Klarna
Trustly
Step 4: Begin AI Trading
Once you have made a deposit, you can then begin AI trading. eToro offers a CopyTrader and CopyPortfolio feature, so you can choose which one appeals to you most – or choose both!
CopyTrader: Search for a trader you'd like to copy, choose the amount of money you'd like to copy with, and then click 'Copy' to begin copying that trader's positions!
CopyPortfolio: Search for a CopyPortfolio that you'd like to invest in, click on it, and then click 'Invest'. Most CopyPortfolios require a minimum investment of $1000 to begin investing.
67% of retail investors lose money trading CFDs at this site
Conclusion
Overall, AI trading is a fantastic method to use when trading in the financial markets – regardless of your experience level. The sheer power of this technology means that trades are effective, quick, and profitable. Furthermore, with numerous platforms offering AI trading services these days, you'll never be short of options to choose from.
However, if you're looking to begin AI trading today, we'd recommend using eToro. eToro is ideal for users who wish to start AI trading because the platform is regulated by the FCA and CySec, ensuring the safety of all users. What's more, eToro offer both a 'CopyTrader' and 'CopyPortfolio' feature, providing versatility to your trading approach!
eToro – Best AI Trading Platform with 0% Commission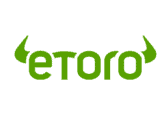 67% of retail investor accounts lose money when trading CFDs with this provider.
FAQs
What is the best AI trading platform?
Can AI predict the stock market?
How does AI trading work?