GBP/USD  had a rollercoaster week, jumping on the hawkish BOE but suffering from the stock market crash. The inflation report stands out. What's next for cable?   Here are the key events and an updated technical analysis for GBP/USD.
The Bank of England provided a big drama by going hawkish. They said that interest rates will rise higher and faster than previously anticipated, alongside raising their forecasts. That sent the pound shooting higher above 1.40. However, that did not last too long: worries about the Brexit negotiations and more importantly, yet another stock market crash, sent GBP/USD lower. Stocks will likely continue dominating the scene.
[do action="autoupdate" tag="GBPUSDUpdate"/]
GBP/USD daily graph with resistance and support lines on it. Click to enlarge: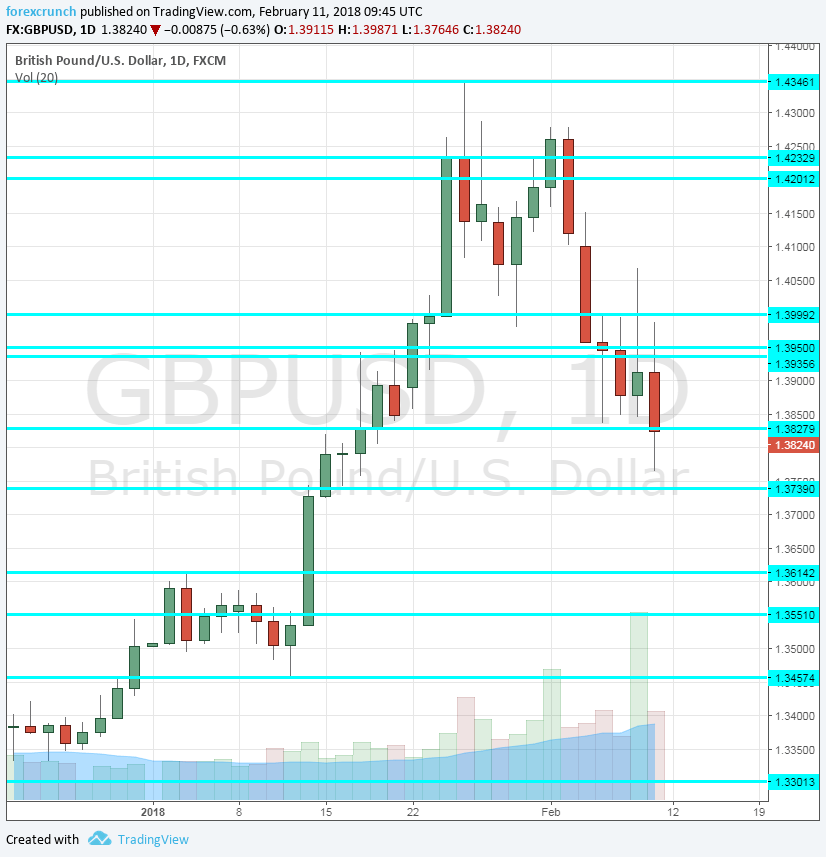 Gertjan Vlieghe talks, Monday, 9:50. After the BOE's hawkish Super Thursday, MPC member Ben Broadbent added more fuel to the fire by hinting about two hikes in the next 12 months. We will hear from two more members, starting with  Vlieghe, which will speak in London. In the past,  Vlieghe voted for a cut when others wanted to keep the policy unchanged.
Ian McCafferty talks, Monday, 16:30.  MPC member McCafferty is a known hawk. While he may also suggest several hikes, his words might not make the same impact as it wouldn't be surprising coming from him.
Inflation data: Tuesday, 9:30. After the BOE turned hawkish, market expectations for a rate hike in May have risen quite substantially. However, a lot depends on the inflation keeping up. Headline CPI stood at 3% y/y in December and now we get the first release for 2018. A slide to 2.9% is forecast. Core CPI was 2.5% and it is expected to tick up to 2.6% now.
CB Leading Index: Wednesday, 14:30. This composite index dropped by 0.2% last time, causing some worries. A bounce could be seen now.
Retail Sales: Friday, Wednesday, 9:30. The volume of sales has been volatile, but every surprise has an outsized impact. A drop of 1.5% was recorded in December, well below expectations. A bounce of 0.6% is on the cards now, but the British consumer has been hesitant of late.
BP/USD Technical Analysis
Pound/dollar hax a wild week, with the 1.3980, mentioned last week, keeping it depressed, except for one exception.
Technical lines from top to bottom:
1.4345 is the January 2018 swing high that is worth watching. The round number of 1.41 held the pair up after falling from that level. In the middle, we can point out to the veteran line of 1.4240, but volatility is somewhat wild here.
1.3980 was the swing low in late January 2018.  1.3830 served as support after the break of the financial crisis.
1.3743 was a peak early in January and should be watched.  The previous cycle high of 1.3620 serves as strong resistance.
1.3550 was the November peak.  1.3460 capped the pair in mid-December and serves as resistance.
I remain bearish on GBP/USD
While the BOE surprised with a hawkish stance, worries about the Brexit negotiations and the internal fighting could continue weighing on the pound. In addition, the stock market rout may be far from over.
Further reading:
Safe trading!