GBP/USD  had an uneventful  week, and was almost unchanged, as the pair closed  just shy of the 1.68 level. This week's highlights are Manufacturing Production and  Claimant Count Change.  Here is an outlook for the main events moving the pound, and an updated technical analysis for GBP/USD.
The news was positive in the US, as Non Farm Payrolls met expectations in May, and the ISM Manufacturing and Services PMIs both showed improvement. In the UK, the BOE held course, maintaining its interest rate and QE levels. PMIs remain at high levels, pointing to continuing expansion in the services, manufacturing and construction sectors.
[do action="autoupdate" tag="GBPUSDUpdate"/]
GBP/USD graph with support and resistance lines on it. Click to enlarge: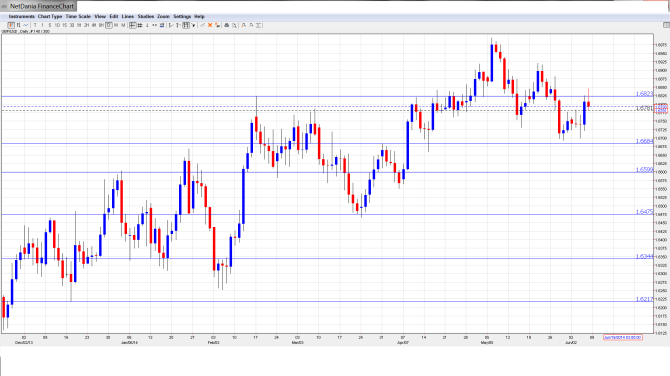 BRC Retail Sales Monitor: Monday, 23:01. This indicator measures changes in retail sales in the BRC chain of stores. The indicator bounced back nicely last month, posting an excellent gain of 4.2%. The markets will be hoping for another strong reading for the May release.
Manufacturing Production: Tuesday, 8:30.  Manufacturing Production has posted mostly modest gains in 2014, with the previous release coming in at 0.5%, beating the estimate of 0.3%. Little change is expected in the upcoming release, with an  estimate of 0.4%.
10-year Bond Auction: Tuesday, Tentative.  This indicator has been steady, posting yields slightly below the 3% level. Little change is expected in the upcoming release.
NIESR GDP Estimate: Tuesday, 14:00. This monthly indicator is used by analysts to track GDP, which is released only each quarter. The GDP estimate has been steady in 2014, and edged higher to 1.0% last month. The markets are not expecting any significant change in the May reading.
Claimant Count Change: Wednesday, 8:30. Claimant Count Change is one of the most important economic indicators and an unexpected reading can affect the direction of GBP/USD. The indicator came in at -25.1 thousand last month, short of the estimate of -30.7 thousand. No change is expected in the upcoming release. The Unemployment Rate has been edging lower, and is expected to dip to 6.7%, down from the current level of 6.8%.
Average Earnings Index: Wednesday, 8:30. The index has been moving higher in 2014, but the last two readings of 1.7% have fallen short of the estimates. The markets are expecting the indicator to slip to 1.2% in May.
BOE Deputy Governor Ben Broadbent Speaks: Wednesday, 13:45. Broadbent will testify before the Treasury Select Committee in London. Analysts will be looking for signals with regard to a rate increase by the BOE.
RICS House Price Balance:  Wednesday, 23:01. With the UK's economic recovery well under way, there is increased speculation about a rate hike, although none is expected before 2015. So the BOE is expected to keep rates at the current level of 0.50%. The MPC will release a Rate Statement announcing the  June rate.
BOE Governor Mark Carney Speaks: Thursday, 22:00. Carney will deliver remarks at an event in London. A speech which is more hawkish than expected is bullish for the British pound.
CB Leading Index: Friday, 9:00. The index is based on 7 economic indicators, but has a muted impact on GBP/USD since most of data has already been released. The indicator has been on a downward trend, and dipped to 0.3% last month.
* All times are GMT
GBP/USD Technical Analysis
GBP/USD opened the week at 1.6755.  The pair  dropped to a low of 1.6699, as support at 1.6684 (discussed last week) held firm. GBP/USD then rose to high of 1.6846 and closed the week at 1.6793.
Live chart of GBP/USD:
[do action="tradingviews" pair="GBPUSD" interval="60″/]
Technical lines from top to bottom
We  start with resistance at 1.7375. This line marked the start of a sharp pound rally in March 2006, which saw the GBP/USD push above 2.11.
Next is 1.7180, which  has served in a resistance since October 2008. This is followed by 1.6990, which  is protecting the  key  psychological  level of 1.70.
1.6823 had a busy May, and was breached yet again in the first week of June. The line continues to provide resistance, but is weak and could face strong pressure early in the week.
1.6684  held firm  in support as the pair lost ground early in the week.  This line was an important resistance level in March and early April.
The round number of 1.6600  follows. It has remained intact since early April,  which marked the start of a rally  that saw the pound flirt with the 1.70 line.  1.6475  is the next support level.
1.6343 saw some activity in early February but has provided strong support since that time.
The  final  support line for now is 1.6217. It has held firm since last December.
I  am  neutral  on GBP/USD.
The pound  continues to trade at high levels, as UK numbers continue to point to a deepening recovery. The BOE continues to be coy about a rate increase, but speculation in this regard will continue as statements by BOE policymakers are closely monitored. The US economy is also moving in the right direction, albeit with a few bumps along the way. Nonfarm Payrolls was positive and with the employment picture looking good, the US dollar could make some gains against its major rivals such as the pound.
Further reading: