GBP/USD  flexed some muscle during the week, but retracted and was almost unchanged, closing at 1.6328. The sole event this week is BBA Mortgage Approvals.  Here is an outlook for the main events moving the pound, and an updated technical analysis for GBP/USD.
Sharp employment numbers out of the UK  boosted the pound in mid-week, but it was not able to consolidate  these gains. US releases had a rough week, notably Unemployment Claims, which rose for a second straight week.
[do action="autoupdate" tag="GBPUSDUpdate"/]
GBP/USD graph with support and resistance lines on it. Click to enlarge: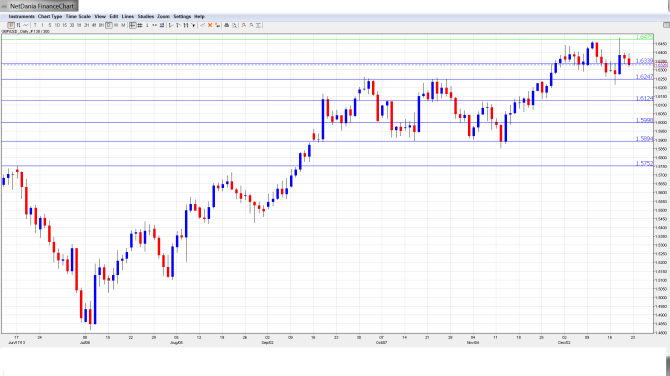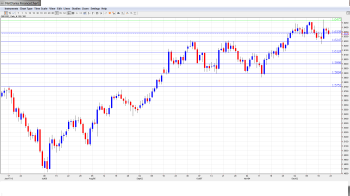 BBA Mortgage Approvals: Tuesday, 9:30. This indicator is an excellent gauge of demand and activity in the UK housing market, as most home buyers finance the purchase with a mortgage. The indicator  has shown  improvement in recent months, and the October release came in at 42.8 thousand. However, this fell short of the  estimate of 45.2 thousand. The markets are expecting another strong reading for November, with an estimate of 44.5 thousand. Will the indicator meet or  beat this rosy prediction?
* All times are GMT
GBP/USD Technical Analysis
GBP/USD opened the week at 1.6298. The pair  dropped to a low  of 1.6217, but then reversed directions and climbed all the way to 1.6485, breaking past resistance at 1.6475 (discussed last  week).  The pair then retracted, closing at 1.6328.
Live chart of GBP/USD: [do action="tradingviews" pair="GBPUSD" interval="60″/]
Technical lines from top to bottom
We  start with resistance at  1.6990, which is protecting the key 1.70 level. This line has remained intact since October 2008.
Next is resistance at 1.6705, which has  held firm since May 2011. This is followed by the round number of 1.6600.
1.6475 was briefly breached for the first time since August 2011 as the pound  shot upwards in  mid-week, but remains as strong resistance.
This is followed by 1.6343, which was breached for a  fourth straight week. It is a weak resistance line and could be tested early in the week.
1.6247  continues to provide the pair with support.  This was a key resistance line in October and November 2012.
1.6125  is the next support level. This line has strengthened as GBP/USD trades at higher levels and has held steady since late November.
The round number of 1.60, a key psychological barrier, is providing strong support. Next is 1.5893 which saw action in November.
1.5752 is the final support line for now. It was breached in mid-September by the surging pound but has provided solid support since then.
I am  neutral on GBP/USD.
The pound continues to look strong as the British economy picks up steam. November's employment, GDP and retail sales numbers all were positive. US releases were disappointing last week, but the Fed finally announced a QE taper and this  will likely help strengthen  the US dollar.
Further reading: