GBP/USD  slumped on Friday, and the pair was down about 160 points on the week. The pair  closed  just above the 1.600 level. This week's key events are  Manufacturing  Production  and the Official Bank Rate.  Here is an outlook of the events and an updated technical analysis for GBP/USD.
The pound suffered its worst week since July, as all three UK PMIs fell short of their estimates. In the US, Unemployment Claims beat the estimate.
[do action="autoupdate" tag="GBPUSDUpdate"/]
GBP/USD graph with support and resistance lines on it. Click to enlarge: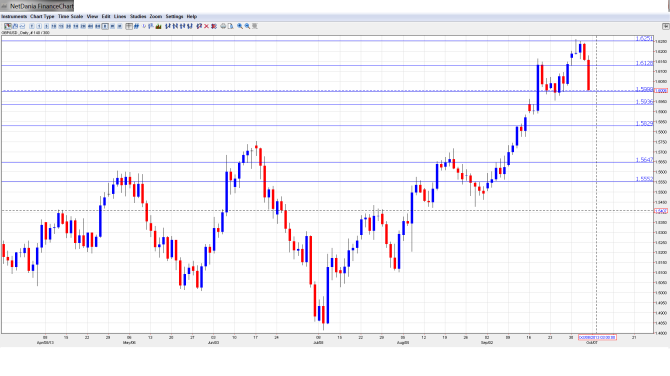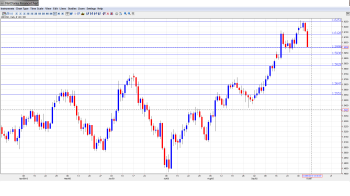 BRC Retail Sales Monitor: Monday, 23:01. This indicator looks at retail sales data from BRC (British Retail Consortium) retailers. The August release posted a gain of 1.8%, and no significant change is expected in the September release.
BRC Shop Price Index: Tuesday, 23:01. The index measures inflation for goods purchased in BRC shops. The index continues to post reading below zero and the past two releases have registered declines of -0.5%. Another decline is expected in the upcoming release.
Manufacturing Production:  Wednesday, 8:30. Manufacturing Production is a key event which can affect the movement of GBP/USD. The indicator posted a very weak gain last month of 0.2%, compared to a 1.9% gain the month before. Little change is expected in the September release, with an estimate of 0.3%.
BOE Credit Conditions Survey:  Wednesday, 8:30. This important report is released on a quarterly basis. The survey looks at bank and non-bank lenders, asking them to rate credit conditions in the UK. Loans to consumers and businesses provides an important gauge of confidence and spending, which are critical for economic growth.
Trade Balance:  Wednesday, 8:30. The trade deficit jumped to -9.9 billion pounds in August, up from -8.1 billion the month before. This was well above the estimate of -8.2 billion. Another high deficit is expected in September, with  a forecast of -8.9 billion pounds.
NIESR GDP Estimate:  Wednesday, 14:00. This indicator helps analysts track GDP on a monthly basis, as the official GDP release is only issued every quarter. The indicator has been improving in recent months, and registered a 0.9% gain in August. Will the upward trend continue this month?
Asset Purchase Facility: Thursday, 11:00. The BOE will release its decision on Asset Purchase Facility. This has been pegged at 375 billion since July 2012 and no change is expected in the upcoming release.
Official Bank Rate: Thursday, 11:00. The BOE's benchmark interest rate has remained at 0.50% since  March 2009. No change is expected in the October decision.
CB Leading Index:  Friday, 9:00. This composite index is based on 7 economic indicators, but is a minor release since most of the data has been released previously. The index had a strong August, posting a gain of 0.7%, its best showing in over a year.
Live chart of GBP/USD:     [do action="tradingviews" pair="GBPUSD" interval="60″/]


GBP/USD Technical Analysis
GBP/USD opened the week at 1.6166. The pair reached a high of 1.6260, but was unable to consolidate these gains and dropped  all the way to 1.6006 where it closed the week, as the key level of 1.6000 (discussed last week) held firm.
Technical lines from top to bottom:
We  start with resistance at 1.6694. This line saw some activity in June 2011, but has remained intact since then.
This is followed by 1.6475, which has held firm since August 2011. Next is 1.6343. This line was last breached when the pound dropped sharply in August 2011.
We next encounter resistance at 1.6247. This was a key resistance line in October and November 2012.
1.6125 was breached again this week and has now reverted to resistance following the pound's sharp slide.
1.60, a key psychological barrier, continues to provide support.  However, it is a weak line, with the pair closing the week just above it. It could be tested early in the week.
1.5936 is the next support level. It saw  a lot of activity in  November  2012 and this past January.
1.5832 continues to provide the pair with strong support. 1.5752 was breached in  September by the surging pound, and has strengthened as a support level.
1.5648 was an important resistance line since June, but  is back in a  support role since early September.
The final line for now is 1.5550, which  continues to  provide GBP/USD with strong support. This line last saw action in mid-June.
I  am  bearish on GBP/USD.
The pound enjoyed an excellent rally in September, but may have run out of steam. Last week's PMIs disappointed, and the pound paid the price with some sharp losses. US data has been mixed, but the dollar still managed to post gains, even with the shutdown. If the pound falls below the 1.60 line, we   could see the downward trend continue.
Further reading: