The plan for Greece is sending markets higher across the board, with Nikkei up more than 1.2%, Hang Seng Index +1.7% and China 0.18%, following the pattern form Wall Street. We see the similar situation on European markets that just opened and are already more than 0.5% in the green.
FX market was mostly consolidating in tight ranges, which are only corrective waves within larger pattern, which is clearly against the buck. We expect to see further weakness on dollar index, now towards 73.50 that will send other majors higher, such as Euro, Pound, Aud, and Cad. Regarding the Futures makret, traders should pay attention to 1354 and then 1367 highs on S&P Futures, where break should be extremely bullish signal for days if now weeks ahead.
Guest post by Gregor Horvat
Dollar Index Comments:
Very nice, sharp break lower on dollar index yesterday; definitely a move that you want to see when you are looking for continuation of a larger trend, downtrend in our case. Market fell below black wave 1 support and also below the trend line connected from 72.70, which confirms a bearish outlook. As such, further weakness should follow and send prices down towards the 72.50 target area for wave 3, while 75.10 holds!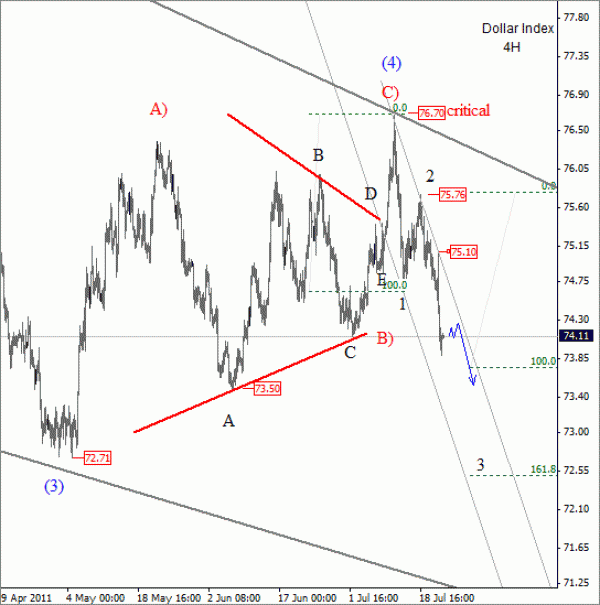 Aud/Usd Comments:
Finally Aud/Usd moved higher and formed a daily close above 1.08 region that we paid attention on, which should now bring more bulls into action. We expect 1.1 to be hit early next week, as we looking for continuation within a wave 3. Critical region now stands at 1.0560, where wave 2/B( shows signs of a completion.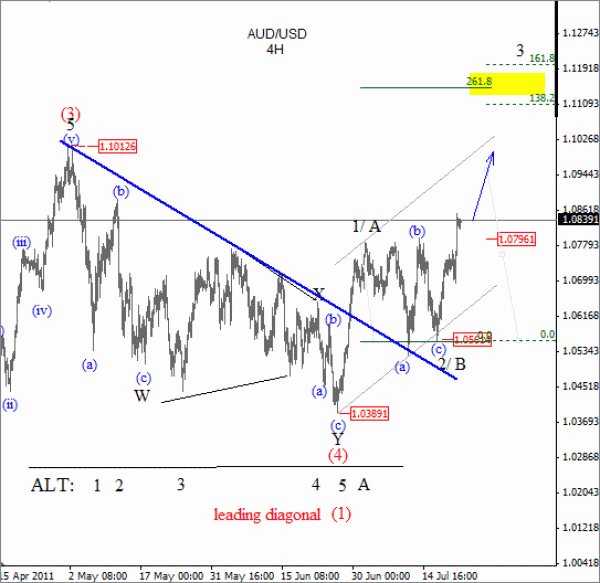 For more analysis visit us at http://www.ew-forecast.com/ or Follow us on twitter.