A bounce in EUR/USD is a sell opportunity, says the team at BofA. Regarding the Aussie, it sees the correction is drawing to a  conclusion.
Also for the kiwi, they certainly remain  USD bulls.
Here is their view, courtesy of eFXnews:
Bank of America Merrill Lynch is bullish the USD and long the greenback against both the AUD and NZD. BofA is also looking to initiate a short EUR/USD position.
Beginning with AUD/USD, BofA thinks that the consolidation since early Oct is drawing to a conclusion and the larger bear trend is about to resume.
"We target 0.8525 ahead of 0.8415. Price action should not get above 0.8861, while a break of the Oct-09 high at 0.8900 would invalidate our bearish view and stop us out of our short," BofA projects.
BofA maintains a short AUD/USD from 0.8818 targeting 0.8525.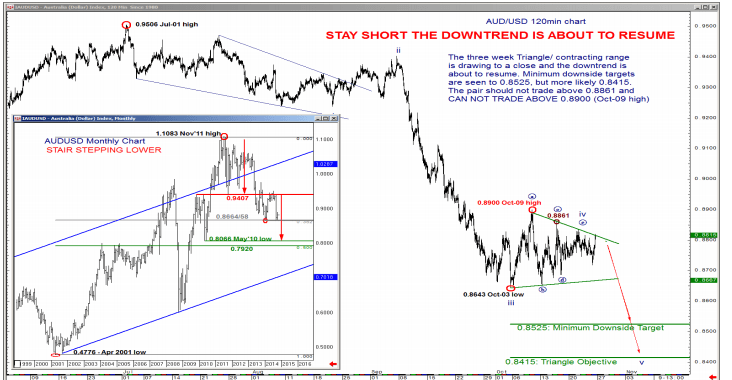 For NZD/USD, BofA is also bearish, short, and looking to add on bounces.
"The impulsive break of 3wk wedge support says the larger downtrend has resumed for 0.7627 and eventually the Nov'11 lows at 0.7371," BofA adds.
BofA runs a short NZD/USD position from 0.7852 targeting 0.7627 and runs a limit order to sell at 0.7888.
Finally, BofA is bearish EUR/USD and looking for further weakness to 1.2470/50 ahead of the 200m MA at 1.2300 before greater signs of basing emerge.
"Bounces should be sold," BofA advies.
For lots  more FX trades from major banks, sign up to eFXplus
By signing up to eFXplus via the link above, you are directly supporting  Forex Crunch.