New Zealand based forex broker MahiFX continues its rapid development and now launches a new feature: notifications for trading and price alerts.
This news joins the previous announcement about  Customisable Viewing Options to Trading Platform. For more details about this new feature, here are more details form the press release:
Customisable call alerts system accompanies newest MahiFX charting package. Forex traders now afforded greater insight into trade signals and price actions.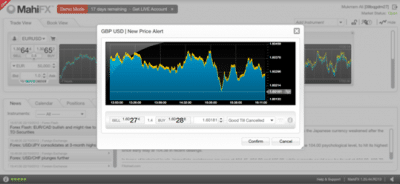 LONDON, 25 October 2012 – MahiFX, the proprietary-built online Forex trading platform has launched a customisable trading and price alert notification system for its currency and precious metal traders. MahiFX traders now have the option to be alerted when the markets reach a certain level by simply activating a price alert button on their trade. Once activated, clients can configure customisable alert level settings and select their preferred communication method of either a pop up notification or email alert.
In addition to the new call alert notification feature MahiFX has released its latest round of charting improvements. Traders now have the facility to generate charts of past trade signals and to review historic price actions. Traders will also be able to generate a window with graphs that extend beyond the present day, incorporating the facility to draw lines directly on the graph extending into the future.
David Cooney, MahiFX co-founder and CEO said: "These newest platform improvements will greatly assist traders with monitoring their open positions and having real time actionable data to inform and automate their trading decisions."
Today's release follows a raft of recent platform enhancements that include new trade viewing options designed to cater specifically to traders' differing expertise levels, same-screen viewing and direct editing of Stop Loss and Take Profit within the blotter for each respective trade and an 'Analysis View' feature that plots news and economic events directly on the charts.