German Chancellor Angela Merkel made a rare reference to the strength of the euro, saying that it makes hard from some euro-zone countries to reform.
Together with growing worries about Greece, EUR/USD fell all the way to 1.1150 before bouncing, but it finds it hard to recapture the round 1.12 level.
Merkel said:
At the very least I'd like to ask for your understanding that central banks, like the European Central Bank, have to think about what to do if the inflation rate is so low and to ensure that we don't end up in a deflationary cycle
Does she want more QE?
Things worsened in Greece: optimism that was built on reports of a compromise from Merkel was totally erased with the IMF departure of talks. More pressure from various euro-zone officials reached another climax when  the head of the Eurogroup, Dijesslbloem  made it clear that Greece can only accept the program: a clear "take it or leave it". This was a more direct call than a similar message heard from others, following the meeting between Juncker and Tsipras yestrday.
We still think that Greece is the one with the leverage, on all three members of the troika.
EUR/USD already dipped temporarily below 1.12 on the good US retail sales report. However, the dollar couldn't really enjoy the  positive data and slipped across the board.
We still have important news coming up from the US: the UoM consumer sentiment.
See how to trade the consumer  confidence with EUR/USD.
Here is how it looks on the chart: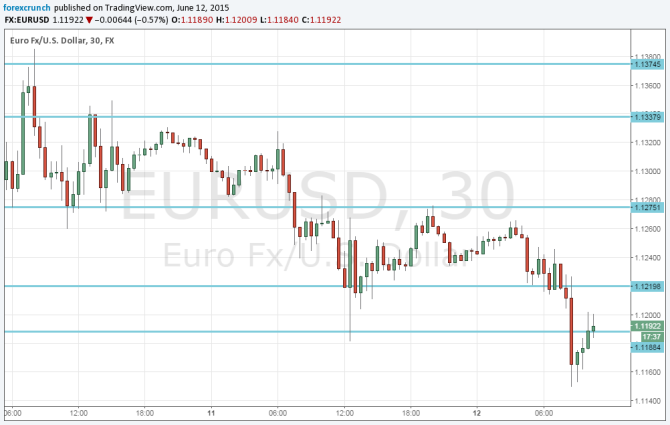 In our latest podcast, we  bring you up to speed with the Fed decision and the USD impact, and also  tackle the Greek crisis from two different angles.