Quarterly employment figures are the highlight of releases this week in New Zealand. Here's an outlook for these events, and an updated technical analysis for NZD/USD.
NZD/USD daily chart with support and resistance lines on it. Click to enlarge: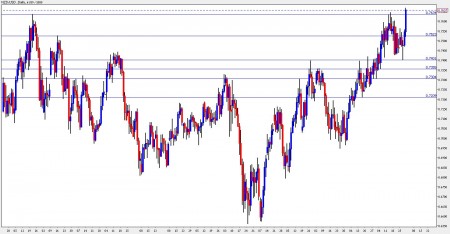 The rate decision in New Zealand came out as expected, and helped stabilize the kiwi. Will it pick a direction now?
ANZ Commodity Prices: Monday, 2:00. A significant portion of New Zealand's economy is based on commodities' exports, making this indicator important. A rise of 2.9% was recorded last month. A smaller rise is expected now.
Labor Cost Index: Monday, 21:45. Combining inflation and employment, this indicator always rocks the kiwi. In the past year, quarterly rises have been between 0.3% and 0.4%. This time, a stronger rise is expected in this stable indicator – 0.5%.
Employment data: Wednesday, 21:45. Inflation figures are important everywhere, and they have a stronger impact when they are released only once per quarter. Q2 was a bitter disappointment as employment change showed a drop of 0.3%. A significant correction is expected this time, with a rise of 0.5%. The unemployment rate, no less important jumped from 6% to 6.8% and was a shocker as well. It's now expected to slide down to 6.7%.
* All times are GMT.
NZD/USD Technical Analysis
The kiwi began the week with a drop towards the 0.74 line . It then recovered, and after settling above 0.7523 (mentioned in last week's outlook), NZD/USD managed to close the week above 0.7634, at the high level of 0.7657.
After passing 0.7634 and reaching the highest level in two years, NZD/USD now eyes the 0.7760 and 0.7920 that are not so distant anymore, though they were last seen in 2008. These lines are followed by the round psychological number of 0.80.
Looking down under 0.7634, the 0.7524 line was a peak back in November 2009 and served as a pivotal line in the past week.
0.74 was a peak in the previous month, and now cushioned the fall of NZD/USD.  More support is found at 0.7355 which capped NZD/USD in the summer.
Even lower, 0.73 and 0.72 also worked as support and resistance lines in recent months, and are now getting closer. The round number of 0.70 is a strong and distant support line.
I am neutral on NZD/USD.
The close above 0.764 is a bullish sign, though the situation in New Zealand requires caution. Wednesday is a big day for NZD/USD, with the all-important FOMC decision in the US being published just before the quarterly employment figures. Choppy trading is guaranteed.
Further reading:
Want to see what other traders are doing in real accounts? Check out Currensee. It's free..