CPI is the key event in the kiwi's week. Here's an outlook for the events in New Zealand, and an updated technical analysis for NZD/USD.
NZD/USD  daily chart with support and resistance lines marked. Click to enlarge: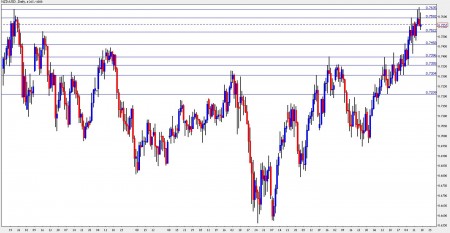 NZD/USD climbed to fresh highs but found strong resistance. Will it make a break now? Let's start:
CPI: Sunday, 21:45. Inflation figures are released only once per quarter in New Zealand, making this release very important. In the past three quarter, the consumer price index fell short of expectations. In Q2, prices rose by 0.3%, and this weakened the kiwi. CPI is expected to be higher this time – 1%. Only a big rise will force a rate hike.
Alan Bollard talks: The governor of the RBNZ will speak in front of a committee in parliament and will shed some light on his views of the economy. Any hints about future moves on the rates will shake the kiwi.
Visitor Arrivals: Tuesday, 21:45. Tourism is one of the most important sectors in the economy, making this release important. The number of visitors has risen nicely in the past 4 months, helping New Zealand. A similar rise to last month's 0.6% is expected now.
Credit Card Spending: Thursday, 2:00.  Expenses in credit cards serve as a good gauge for consumer spending, and for consumer confidence in general. Last month saw a nice rise of 2% in spending. A smaller rise is expected now.
* All times are GMT
NZD/USD Technical Analysis
After a struggle with the 0.7523 line, NZD/USD managed to climb above last week's peak and encountered the important 0.7634 line (mentioned in last week's outlook). It finally lost steam and closed at 0.7557, very close to last week's close.
Looking up, immediate resistance is found at 0.76, a round number which was almost the peak (0.7592) in the previous week. Above, 0.7634 was a peak in October and is the highest level in two years – it served as strong resistance just now.
Beyond, 0.7760 and 0.7920 are distant lines that were last seen in 2008. These lines are followed by the round psychological number of 0.80.
Looking down, immediate and minor support is found at 0.7523, the high from November 2009. Below, 0.7460 was a point of friction during September and now provides further support.
Stronger support is found at 0.74, which was a swing high in September and also capped the kiwi during September. More support is found at 0.7355 which capped NZD/USD in the summer.
Even lower, 0.73 and 0.72 also worked as support and resistance lines in recent months, and are far below.
I remain bearish on NZD/USD.
Contrary to its neighbor, New Zealand lacks strong fundamentals to push it higher. A stable US dollar will find NZD/USD ready to fall, unless there's a huge surprise with the CPI.
Further reading:
Want to see what other traders are doing in real accounts? Check out Currensee. It's free..