We have seen some US indicators lifting their heads, while others are still on looking disappointing, including the  important ADP NFP. What's next for the US dollar?
The team at HSBC says that the party for the  greenback bulls is nearly over:
Here is their view, courtesy of eFXnews:
The USD bull run feels close to the end, warns HSBC in its weekly note to clients today.
"The current USD rally has accelerated since the start of the year, leaving the DXY index up over 25% since May 2014. This constitutes a significant move and major rallies tend to have similar life-cycles," HSBC notes.
"The final surge of an asset price has generally been followed by a sizable retracement. This is the case for both huge asset price moves, or 'bubbles', or somewhat less dramatic but still significant moves. We feel that this current move is on its last legs and about to enter its final retracement stage," HSBC argues.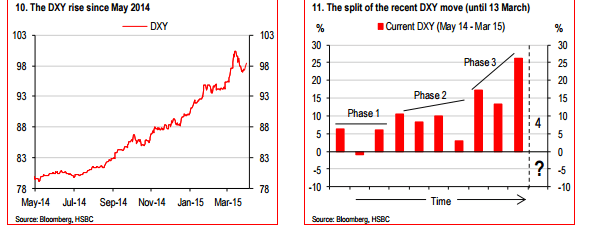 However, HSBC believes that there is a possibility of a final temporary lurch higher for the dollar, with EUR/USD challenging parity, but that will be it.
"We continue to see EUR-USD at 1.10 by the end of 2016. Of course, we are not suggesting the USD is lined up for a major crash. We are simply saying that a USD reversal is becoming imminent and an appreciation of bubble dynamics can help us understand the outlook for the USD," HSBC projects.
All in all, HSBC thinks that the message for the USD bulls 'may be now a good time to think about gathering your belongings and going home.'
For lots  more FX trades from major banks, sign up to eFXplus
By signing up to eFXplus via the link above, you are directly supporting  Forex Crunch.