The Australian dollar has weakened quite a bit in the previous week, reaching new 4 year lows against the US dollar. Weak Australian GDP took its toll.
Is this the end of it? The team at Barclays sees more drops and explains:
Here is their view, courtesy of eFXnews:
Investors following tactical strategies should consider selling AUD/USD this week, advises Barclays Capital in its weekly FX pick to clients.
"Disappointing China data, continued weakness in commodity prices, narrowing Australia-US interest rate differentials and recent dovish RBA rhetoric point to further AUDUSD downside, in our view," Barclays says as a rationle behind this call.
"Recent indirect signaling by the RBA suggests it is becoming increasingly frustrated that the AUD has not kept pace with Australia's rapidly declining terms of trade and that it may consider cutting interest rates if AUDUSD does not fall below 80 cents by early next year," Barclays clarifies.
"The significant dovish shift in RBA rhetoric coincides with recent disappointing Q3 GDP growth and the likely imminent announcement of macro-prudential measures to address an overheating Australian housing market. As such, our economist recently pushed back his RBA rate hike call from Q1 2015 to Q3 2015, raising downside risks to our AUDUSD forecasts," Barclays adds.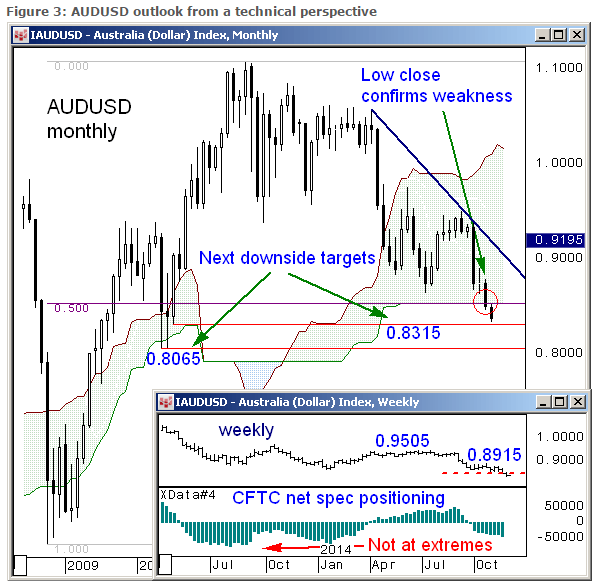 On the technical front, Barclays' technical strategists note that AUD/USD monthly close below clustered support in the 0.8440 area (cloud base and Fibo level), encouraging their bearish view.
"Given that current short (CFTC net speculator) positioning is less than 60% of the short position built in 2013, we expect further downside in the weeks ahead. A move below our initial downside targets in the 0.8315 area would confirm an extension lower towards our greater targets near 0.8065, the 2010 range lows," Barclays projects.
For lots  more FX trades from major banks, sign up to eFXplus
By signing up to eFXplus via the link above, you are directly supporting  Forex Crunch.