The greenback gained a lot of ground in recent months. Are we due for a big correction? Or is there more in store?
The team at UBS describes the next moves for  a wide array of pairs:
Here is their view, courtesy of eFXnews:
UBS has revised its FX forecasts to mainly reflect a stronger USD going into 2015 but stressing that this path for USD strength will be a non-linear.
"We concur with the consensus view that the dollar will enjoy healthy gains in 2015 and beyond, but the path is potentially dynamic given that dollar strength could yield both benign and disruptive outcomes, depending on what's driving it.Despite pledges by the Fed to back-load normalisation, and a general lack of tail risks, uncertainty discounts are set to increase for exposed currencies," UBS clarifies.
"We revise our targets for the yen in the wake of the Bank of Japan's latest QQE decision. Irrespective of the uncertainty surrounding politics and the effectiveness of current policy, we believe that BoJ resolve should not be in doubt, nor should the risk of material portfolio outflows from Japan be dismisssed," UBS argues.
"We also lower our targets for the smaller majors – AUD, CAD, NOK, NZD, SEK – as the US dollar continues its gradual ascendency," UBS adds.
On a one month timeframe, UBS now sees EUR/USD at 1.23, USD/JPY at 115, GBP/USD at 1.60, USD/CHF at 0.98, and AUD/USD at 0.84.
On a three-month timeframe,  UBS now sees EUR/USD at 1.25, USD/JPY at 118, GBP/USD at 1.62, USD/CHF at 0.98, and AUD/USD at 0.83.
For end of 2015,  UBS now sees EUR/USD at 1.20, USD/JPY at 115, GBP/USD at 1.60, USD/CHF at 1.03, and AUD/USD at 0.80.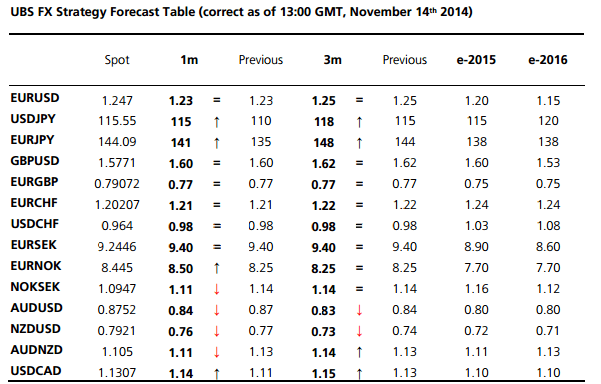 For lots  more FX trades from major banks, sign up to eFXplus
By signing up to eFXplus via the link above, you are directly supporting  Forex Crunch.