29 January 2014  –  Unwinding the US Federal Reserve's quantitative easing programme was never going to be easy and it has barely started and some emerging market countries are already running into trouble.
So far the worst hit countries also appear to be victims of their own internal problems, such as high current account deficits and political turbulence. In effect, ultra cheap money from the Fed was papering over some serious cracks – similar to what the EUR was doing for years for peripheral Eurozone countries.
Update:  Taper 2: Fed announces $10 billion taper – USD advances
It would seem perfectly natural for emerging market currencies to fall against USD as winding down quantitative easing is a form of monetary tightening. But will it reveal deep rot within some of those countries? For some yes. And in this age of global inter-connectivity that potentially matters a lot.
Trying to stop USD/TRY slide by hiking interest rates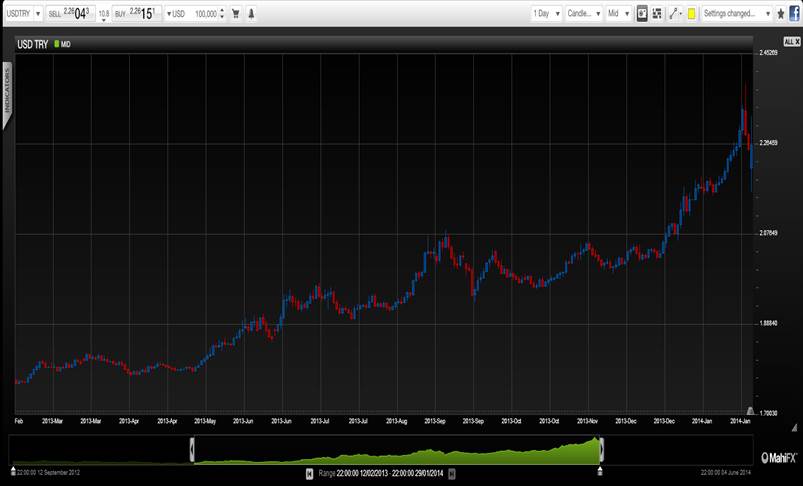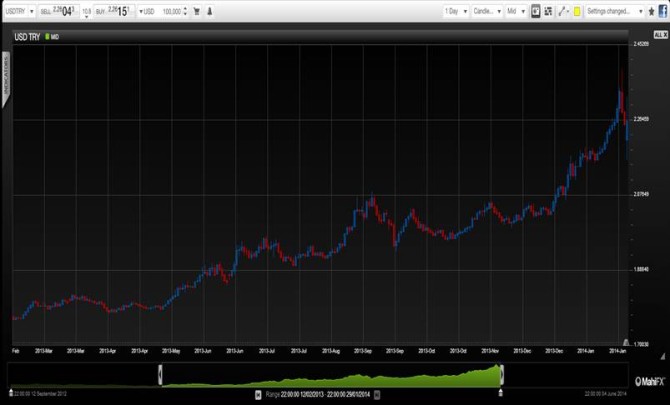 Global growth & China are key
The two big external factors as to whether recent emerging market currency volatility is just a wobble or the beginning of a bigger crisis – is world economic growth and China.
If the main stimulus for the global economy shifts from ultra-easy money policies towards real growth – then the currencies of the better managed emerging market countries should bounce back. The others will have to go through a painful readjustment process, but will be able to do so in a less hostile global economic environment.
China is also key. In part because it is seen as a proxy of developed country growth (because they buy its exports) and also because it's a huge economy in its own right and a major consumer of raw materials. So far it has only suffered an economic slowdown.
But one thing that is for certain – the Fed's transition towards a normalised monetary policy will continue to create volatility. The job of central bankers will be to ensure that this volatility doesn't feed on itself and turn into a systemic threat, such as an emerging market crisis.
So far the odds are on containment – mainly because the world economy is recovering. But that could change at any moment.
By Justin Pugsley, Markets Analyst MahiFX Follow MahiFX on twitter