A big miss in the US services sector: a score of only 55.2 in the ISM Non-Manufacturing PMI. The employment component is especially worrying, with a plunge from 55.2 to 51.6 points. The employment component is seen as a gauge for the NFP on Friday.
Other components are on the slide as well: new orders slip to 58.9 from 61.2 points. Prices slump from 57.7 to 53.5 and business activity from 63.6 to 58.9.
The US dollar loses some ground, but does not go too far. Does the ADP report have more influence?
Here is how it looks on USD/JPY: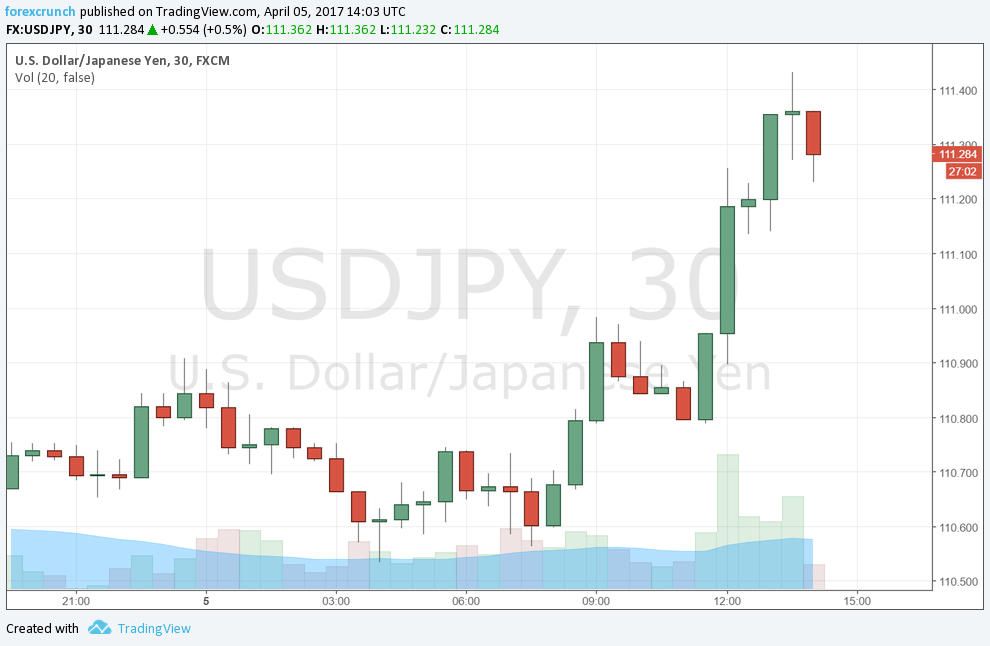 ISM Non-Manufacturing PMI Background
The US forward-looking survey for the services sector by ISM was expected to remain on high ground, slipping from 57.6 to 57 points. The services sector is the vast majority of the US economy. This is the last major hint towards Friday's official Non-Farm Payrolls report.
The US dollar was trading in a mixed manner, gaining against the Japanese yen, losing to the British pound, slightly beating the euro and the kiwi while slipping marginally against the Aussie and the loonie.
The other big hint towards Friday's jobs report was upbeat. ADP showed a gain of 263K jobs in March, far better than predicted. This helped the dollar beat the euro.
Earlier, Markit's final services PMI showed a score of 52.8 points, lower than 53.1 initially published for the month of March. The ISM Manufacturing PMI published earlier in the week showed a slide to 57.2 points. However, the employment component was upbeat.
Get the 5 most predictable currency pairs