USD/CAD posted slight gains last week. There are seven events on the calendar in the upcoming week, including the Bank of Canada rate decision. Here is an outlook for the highlights and an updated technical analysis for USD/CAD.  
There were no tier-1 releases in Canada last week.
In the US, headline inflation improved to 0.4%, up from 0.2%. This was a 4-month high and could signal that inflation is at long last moving higher. Fed Chair Powell reiterated the Fed's dovish stance, saying now is not the time to discuss exiting accommodative policy. Powell also pledged to give the markets plenty of notice before scaling back its massive QE program. The week ended with dismal retail sales numbers for December. The headline figure came in at -0.7%, which followed a -1.1% read a month earlier. Core retail sales fell to -1.4%, down from -0.9% beforehand. This was its lowest level since April.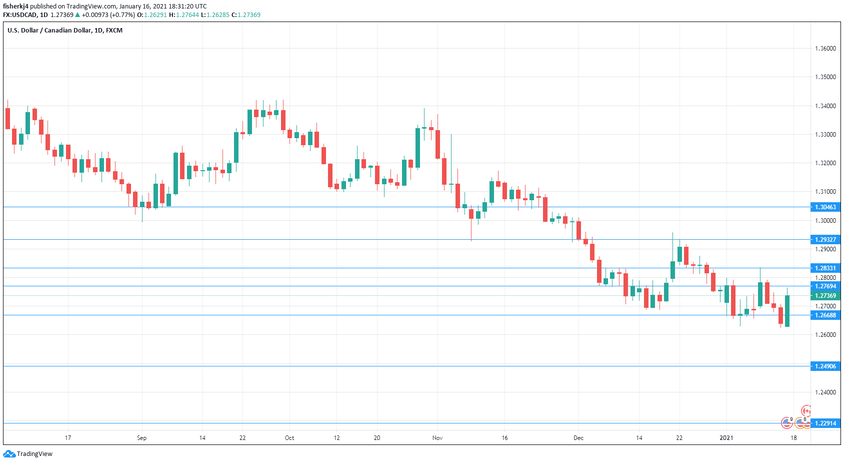 Housing Starts: Monday, 13:15. Housing starts have been moving higher and hit 246 thousand in November, up from 215 thousand beforehand. Will the upswing continue in December?
Foreign Securities Purchases: Monday, 13:30. Foreign securities rose to C$6.92 billion in October, up from the previous release but well below the estimate of C$10.05 billion. We will now receive the November data.
Manufacturing Sales: Tuesday, 13:30. Manufacturing sales slowed to 0.3% in October, down from 1.5% beforehand. Will we see an improvement in November?
Inflation Report: Wednesday, 13:30. Headline CPI slipped to 0.1% in November, down from 0.4%. Trimmed CPI, which excludes the most volatile items, has been steady and came in at 1.7% in November. We now await the December inflation numbers.
BoC Rate Decision: Wednesday, 15:00. The Bank of Canada rate remains at a low level of 0.25%. There has been some talk of a shock rate cut this week due to the deteriorating Covid situation. However, the likelihood of such a drastic move remains low.
ADP Non-Farm Employment Change: Thursday, 13:30. After three straight declines, the indicator punched into positive territory with a gain of 40.8 thousand in November. Will we see another gain in the upcoming release?
Retail Sales: Friday, 13:30. Retail sales fell to 0.4% in November, down from 1.1% beforehand. It was a similar story for the core reading, which from 1.0% and 0.0%. We now await the December data.
Technical lines from top to bottom:
We start with resistance at 1.3046.
1.2933 switched to resistance at the start of December, when USD/CAD started its slide.
1.2833 is next.
1.2768 (mentioned  last week) is an immediate resistance line.
1.2669 is the first support level.
1.2578 is next.
1.2505 is protecting the round number of 1.2500.
1.2291 is the final support level for now.
I am neutral on USD/CAD
Despite some weak US data last week, the US dollar continues to show improvement in the New Year, and the upswing could continue this week.
Further reading:
Safe trading!