It was a quiet week for USD/CAD, which showed small gains. There are four releases in the upcoming week, including the Bank of Canada rate decision. Here is an outlook at the highlights and an updated technical analysis for USD/CAD.
In Canada, the BoC business outlook survey found that business sentiment in Canada was "strongly negative", even though half of the companies surveyed said they expected sales to recover within 12 months. The bank found that the business sector has been hit hard by the economic shutdown in the wake of Corvid-19, as well as the sharp decline in oil prices. The week wrapped up with mixed employment data. The economy created 952.9 thousand jobs in June, easily beating the estimate of 700.0 thousand. The unemployment rate fell to 12.0%, down from 13.7%. However, this was higher than the estimate of 12.3%.
In the US, the services sector showed a strong rebound in June. The ISM Non-Manufacturing PMI jumped to 57.1, up from 45.4 beforehand. This reading showed significant expansion. Unemployment claims continue to fall, albeit at a slow rate. Last week's reading was 1.31 million, down from 1.42 million. The Producer Price Index disappointed. The headline read came in at -0.2%, while Core PPI declined by -0.3%.
USD/CAD daily chart with support and resistance lines on it. Click to enlarge: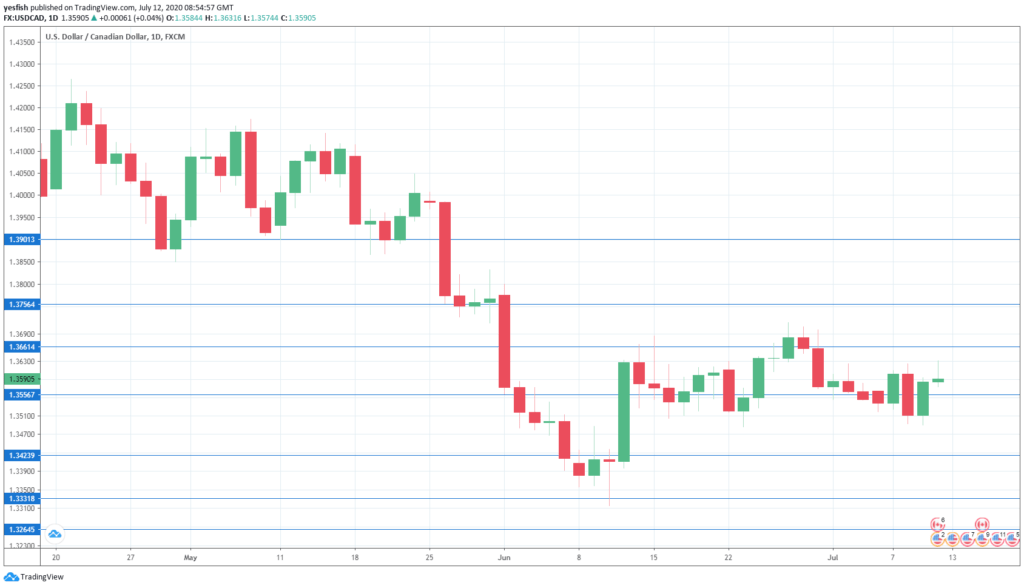 Manufacturing Sales: 

Wednesday, 8:30. Manufacturing sales took it on the chin in April, plunging 28.5%. This was a much sharper decline than the release of 9.2% beforehand. However, analysts are projecting a strong rebound in May, with a forecast of a gain of 8.6%.

BoC Rate Decision:

Wednesday, 10:00. The Bank of Canada is expected to maintain interest rates at 0.25%, where they have been pegged since March. Canada's economy is recovering slowly from Covid-19, and investors will be looking at the rate statement to see what is the bank's view of the economy.

ADP Nonfarm Employment Change: 

Thursday, 8:30. This employment indicator follows the official job creation numbers. In June, the economy created 952.9 thousand jobs, up from 289.6 thousand beforehand. Will the ADP release follow with a strong reading?

Wholesale Sales:

Friday, 8:30. Wholesale sales plunged 21.6% in April, after a loss of 2.2% in March. This points to a sharp drop in consumer spending. We now await the May data.
USD/CAD Technical Analysis
Technical lines from top to bottom:
We start with resistance at the round number of 1.39. This line has been a resistance line since late May. 1.3757 is next.
1.3661 (mentioned last week) continues to be a resistance line.
1.3550 has switched to a support level.
1.3420 has provided support since mid-June.
1.3330 is next.
1.3265 is the final support level for now.
I am neutral on USD/CAD
The U.S dollar is a traditional safe-haven in times of crisis, but investors continue to show a willingness to buy minor currencies like the Canadian dollar. At the same time, lower oil prices are weighing on the Canadian dollar.
Further reading:
Safe trading!
Get the 5 most predictable currency pairs