The first US  presidential debate  is coming  up. We noted why 3 reasons  why Clinton could win and markets  will like it, but anything is possible. Here is the view from Barclays:
Here is their view, courtesy of eFXnews:
The USD will likely trade sideways after losing some ground since the FOMC decision last week.  Despite not hiking interest rates in its September meeting, the FOMC signalled its intentions to increase at least once before year-end. Therefore, market expectations for a December hike barely changed and remain above 50%. We do think that markets will continue to price a higher probability as we approach year-end due to the fact that the status quo in terms of inflation and labour market dynamics should be sufficient to support an increase in fed funds rate before year-end.
More important will be the first (out of three) US presidential debates on Monday. As the race between Hillary Clinton and Donald Trump has tightened and we approach November 8, we expect a tighter correlation between the financial asset prices and the subjective assessment of the outcome of the elections. The higher percentage of undecided voters (around 20%) compared to four years ago (12%) increases the relevance of the debates as they could shift the odds in either direction.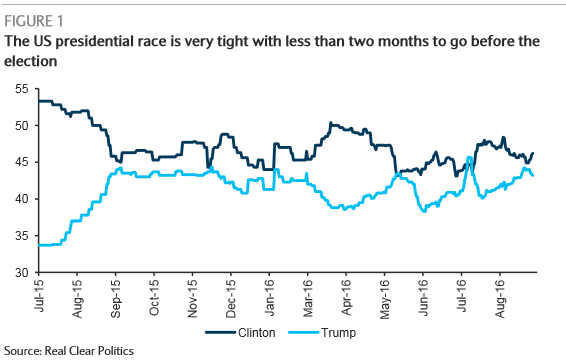 High yield and high beta assets should perform well except for those tightly linked to the outcome of the US election  as volatility has receded from its temporary spike. The Fed's decision to remain on hold and BoJ's guidance regarding monetary policy helped to calm down recent concerns about a drastic increase in yields in core markets. Therefore, the resent sell-off in long-term bonds in core markets receded, helping to cap the recent increase in volatility. On the other hand, we would not expect to see a substantial decline in volatility in assets tightly linked to the US election outcome such as MXN, CAD and some Asian currencies.
For lots  more FX trades from major banks, sign up to eFXplus
By signing up to eFXplus via the link above, you are directly supporting  Forex Crunch.