The Canadian dollar has been on the back foot since inflation figures missed the mark on Friday. While the big break came in reaction to that publication, the pair extended its rises also into the new week.
USD/CAD now faces resistance at the highs of early September, at 1.2665. It flirted with that level yesterday and today. The next level to watch is close: the round number of 1.27. Yet strong resistance appears only at 1.2770 which capped the pair in August.
At current levels, Dollar/CAD is already some 600 pips off the lows seen a bit after the last tackle with 1.2665, when the Bank of Canada surprised with a second consecutive hike, accompanied by a hawkish tone, also for the second consecutive time.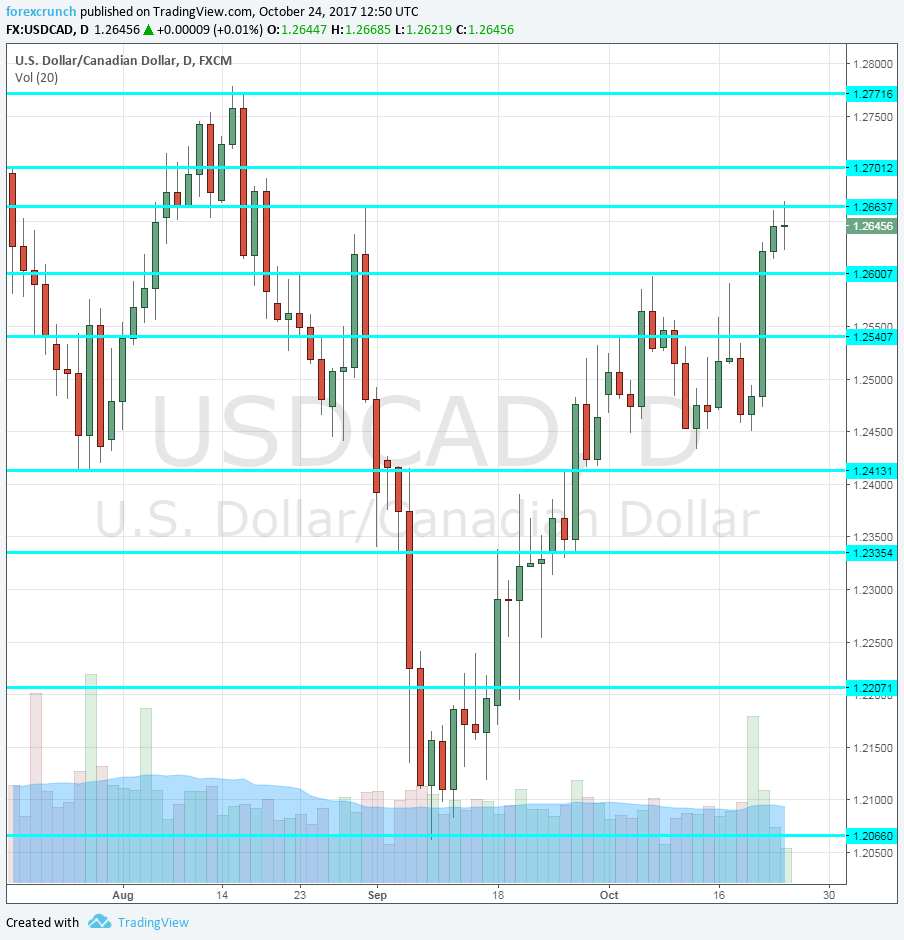 All eyes on Poloz
And the fate of the loonie is now in the hands of the Bank of Canada once again. Governor Stephen Poloz and his team convene on Wednesday and will deliver their decision at 14:00. Poloz will hold a press conference at 15:15.
The Ottawa-based institution is unlikely to raise interest rates this time. Slower growth and lower inflation give time for a pause. Nevertheless, the next move in the C$ depends on the assessment of the economy and the prospects for the next moves on the rates. Current estimates are for a slower pace of hikes, with the next move coming in Q1 2018.
However, nothing is certain. If Poloz hints at a long pause or even shifts back to a neutral stance, the pair could break to much higher ground and even eventually reach 1.30. So far, the BOC just reversed the rate cuts related to the crash in oil prices. We are back to early 2015. Hiking higher from here will already set the rate at the highest level since early 2009 when the BOC was cutting rates rapidly.
Yet if further rate hikes are on the cards, the C$ could slip back down.
More:  USD/CAD: Positioning Points To An Upcoming Sell-Off In CAD; Where To Target? – CIBC